Hi, guys! This is my first official bullet journal post and what a perfect time for it. It's a brand new year which means I've just started a brand new journal from the ground up. Today I'm going to show you how I set up for the new year, my essential spreads, and how these translate into crushing it!
Here we go.
Welcome to the New Year
That Tricky First Page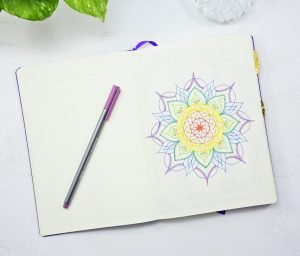 I don't know about you, but I find the first page of a new notebook pretty nerve wracking. It just sits there right in front, full of itself and mocking me. What if I fill the page with something I think is meaningful, but I change my mind a week later? Then I have to see it — setting the wrong tone for my Bullet Journal — every day for the next 6 months?! It doesn't keep me up at night or anything but it's something I think about.
My personal solution to this dilemma? A mandala! They seem complicated to draw, but they are really quite simple. And I appreciate that much like a scribbled masterpiece my toddler frequently presents to me – they are very open to interpretation. I'm not taking an official position on the year, not a quote I might be sick of in a month, or goals I revise 3 weeks in. Just a beautiful design, that can mean anything I want it to. Ah, non-committal zen. (Psst! I have free printables available if you aren't up to sketching one out! Click here.)
Calendex
I put a calendex in the front of each bullet journal I start. Props to Mr. Eddy Hope, the original creator of this spread. If you're not familiar with a calendex, it is basically a visual index of the entire year at once, which I love. Staring at your whole year at once kinda shifts your perspective — a year really isn't so long after all.
I number the days, 1-31 on the side of the grid. The months are along the top and in my Leuchtturm1917, I can fit about 4 grids per day. The horizontal lines in the columns denote weeks, so at a glance, I can see which week of the month my event will fall into. When I have an event to record, I write the details on my daily page, then make a notation of that page number in the corresponding grid on the calendex. I use my color code to quickly see what the event is in reference to.
Sure, I don't often get asked what I'm doing 26 weeks from now, but if I did, I would answer (quite excitedly) with absolute confidence. That's the power of a good plan.
Future Log
I've added a future log this year, which seems redundant. But some things like birthdays or anniversaries aren't necessarily something I'm going receive a new notification for every year. And writing random birthdays and anniversaries in my daily pages even though they weren't brought to my attention that day seems silly. So the Future Log is a simple list, with very short descriptions of what's going on, when.
2017 Goals
As many do this time of year, I reviewed how things were going, and how I want them to go. To that end, I wrote out a page of things I intend to work for this year. Telling yourself is one thing, but writing things down in a place you will see it often is an excellent way to keep yourself on track. This year I kept my goals general, but I'm currently working on a spread that will break these big goals into bite size pieces, with deadlines, plans of action and all that jazz. I'll be posting it here to the blog as soon as I'm done so stay tuned!
Hello 2017 + Quote of the Year
I never used to do these opening pages. I thought they were so pretty but basically pointless. The first time I gave it a try I became addicted to the pretty! I found the act of creating them really put me in the mindset that I actually am entering a new period of time with each new month/year. As a mom of 3 young kids, the days can and frequently do run together. If I don't take the time to mark it, a Saturday can feel almost identical to a Tuesday. These splash pages give me a sense of the mood and potential of this fresh block of time I've been given.
Also, I wouldn't normally have a quote meant to represent such a huge period of time. I like to give myself space to change my mind. But this year, I've decided to crush it, and I can't imagine a better quote for me. 
On to January, one of my favorite months of the year.
Hello January
This page gives me a nice delineation from one month to the next, and the opportunity to set the mood. Plus, I get that feeling of the title page on a book I've been dying to read and just cracked open. Any other book geeks feel me here?
Jan. Monthly Spread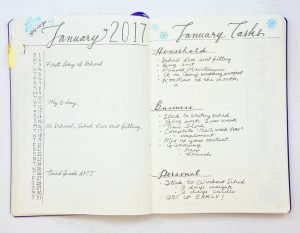 Each new month, I take a little time to take a look at what's coming up on the schedule, and what I want or need to take care of this month. This includes must do's like appointments and deadlines, or aspirational events — like take a day off or clean the house. I prefer this simple layout as designed in the original bullet journal system by Ryder Carrol. But I like to doll it up with colors and designs that represent the mood of that month to me. This month is light blue with snowflakes!
Tracker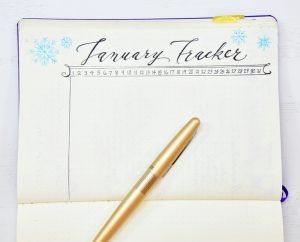 This is a tracker I use to see of how often I'm really doing what I told myself I would. I use this differently than other people I've seen since I don't necessarily intend to do each of these things every single day. It's more to give me a visual overview of how often I do certain tasks like change all the linens or deep clean the car. Not everyday tasks, but I'd still like to get it on a schedule. This is a great example of "what gets measured gets managed". This monthly evaluation is invaluable to knowing how to manage certain tasks. 
Ready for a Great Year
These are just my basic spreads for the beginning of the year. Now that the year is set up, I can move on to my everyday planning routine. I'll go over how I use my weekly and daily pages to stay on track with these big goals in another post.
How's your new year planning going? I'd love to know what you use, what works for you and what doesn't. Let me know in the comments!