Whether you're a journaling expert or a newbie, the search for the perfect notebook is a never-ending quest. Luckily, now that dot grid notebooks have become all the rage, there is always new contender right around the corner. As someone who journals every single day, I am always on the lookout for high-quality notebooks that can withstand vigorous use. So when Pad & Quill sent me their very first line of notebooks, I was so excited to see how they measure up! I mean really excited – like twirling around squealing excitedly! What can I say, I'm a notebook geek. Would the Pad and Quill notebook become my new favorite journal? Or a heartbreaking disappointment?
Read on to get all the juicy details on this new edition to the notebook community!
*This post may contain affiliate links.  All opinions expressed are my own and I only promote products that I genuinely love.
The Specs
For those of you who don't know, Pad & Quill is a company that makes artisan cases for the iPhone and iPad as well as beautiful genuine leather bags. They are known for their high-quality craftsmanship. Now they've created their first line of high-end notebooks, and the results are all class.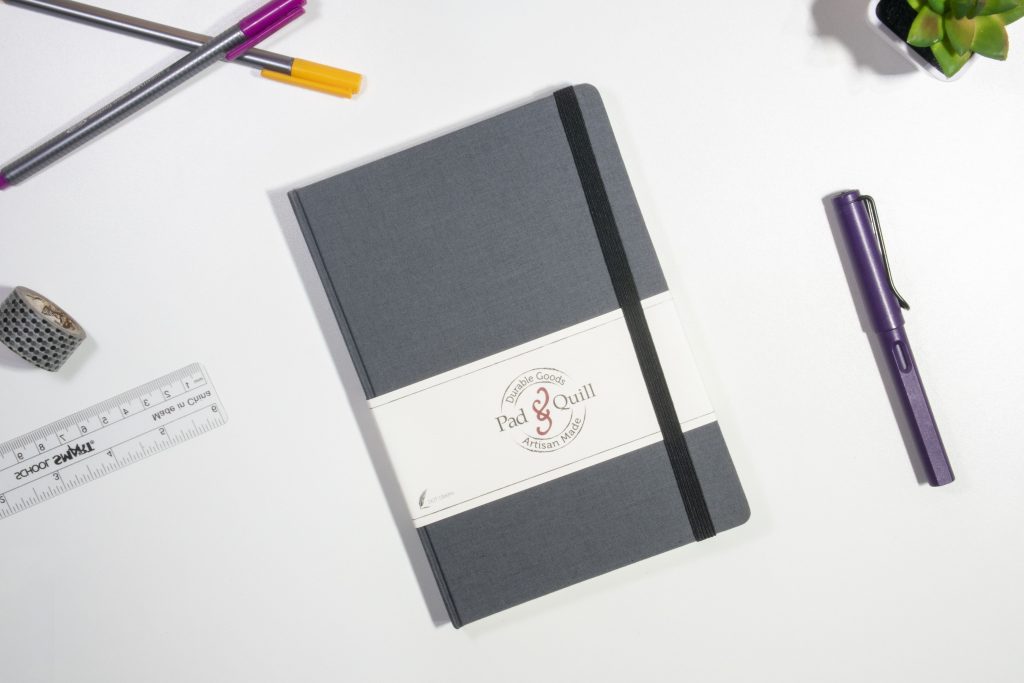 192 pages 100 GSM
Ink-proof & acid-free recycled
Linen cloth hardback cover
Smyth sewn bookbinding lays flat
Table of Contents
Dotted & numbered pages
Expandable pocket
2 bookmarks
A5 – 5.75 x 8.25
The Pros
There are a lot of things to love about the new Pad and Quill notebook. Let me count the ways..
Cover
First off, it has a very elegant look to it. And when it comes to a notebook I use every day, I really do judge a book by its cover. And this notebook does not disappoint in the looks department.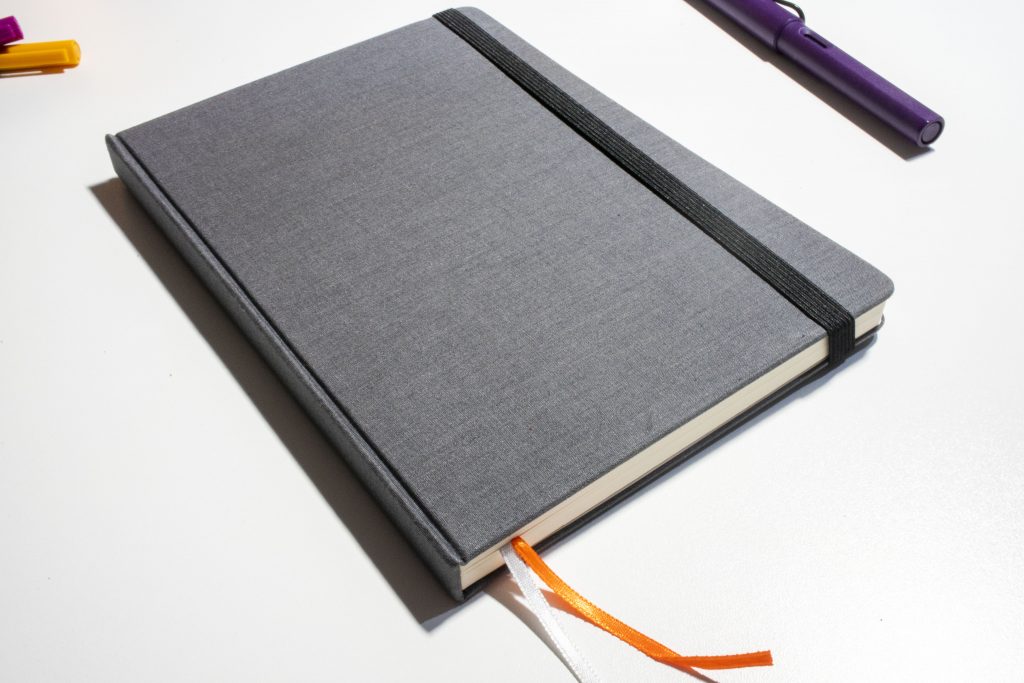 It is a hardcover wrapped in a cool grey linen fabric. The linen has a soft grainy feel that adds a lot of fun texture. This combo of hard and soft makes this one of the more unique dot-grid notebooks that I've come across.
Table of Contents

The table of contents, or "index" as we in the bullet journal community like to call it has a simple, elegant design. It is also only two pages. Now for me, this is a pro. I've never used more than two pages of any index I've used over the past 3 years. I honestly think the huge index's that some notebooks boast is overkill. But maybe that's just me. If you need a big index than this notebook may not be for you.
The Paper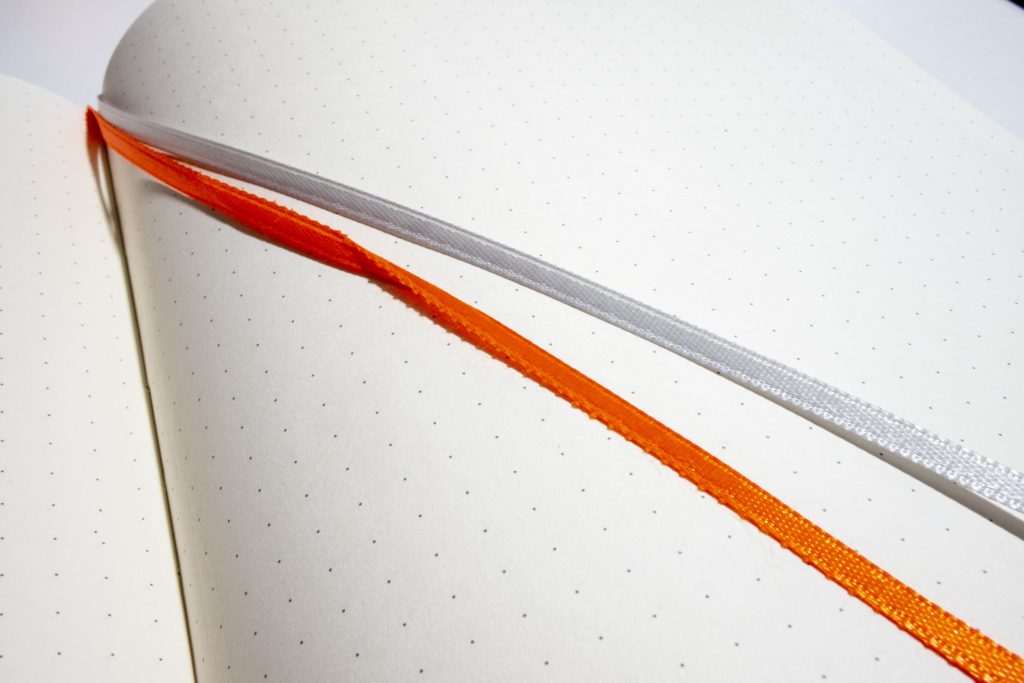 The paper of the Pad and Quill notebook is 100 GSM, which is considered to be ideal for heavy journaling. This means that the paper is thicker and smoother than the average notebook you could pick up from Target. Thicker and smoother means a better writing experience as well as less ghosting.
Strong Elastic
The elastic closure is much thicker than any other notebook I've tried. This means it is very unlikely to break.
Lays Flat
All high-end notebooks say that they lay flat, but it's not always true. In this case, the pad and quill notebook really does lay flat. This speaks to some very superior bookbinding.
Expandable Pocket
The back pocket is nice and roomy. This pocket is ideal for keeping a small ruler or stencils. I love to use the back pocket to keep invitations I receive so that I'll always have the info with me.
The Cons
While overall, I've had a great experiance with this notebook, there were some things that didn't thrill me.
Colors
This first edition of the Pad & Quill notebook comes in only one color. While I find the gray linen cool and elegant, I'd still love to see some variety.
Bookmarks
This notebook comes with two bookmarks, which is great. One is orange and one is silver and the colors pop nicely against the grey linen. But – the quality of the bookmarks could be better. They're on the thin side and edges look suseptible to fraying.
This is not a deal breaker for me, but it's worth noting.
The Paper
Yes, I know, I have the paper in the pro's section as well. At 100 GSM the paper IS high-quality and will be perfect for most journalers. But I found, as a heavy journaler who loves to use a variety of pens, there was more ghosting than I would like when using a heavy duty marker.
Again this wasn't a deal breaker and admittedly, I am a wrecker of journals. For most journalers, this will never become an issue.
The Verdict
Overall, the Pad and Quill notebook is a high-quality and classy addition to the notebook community. I've really enjoyed using this notebook as my Fall bullet journal and I  would recommend to any journaler!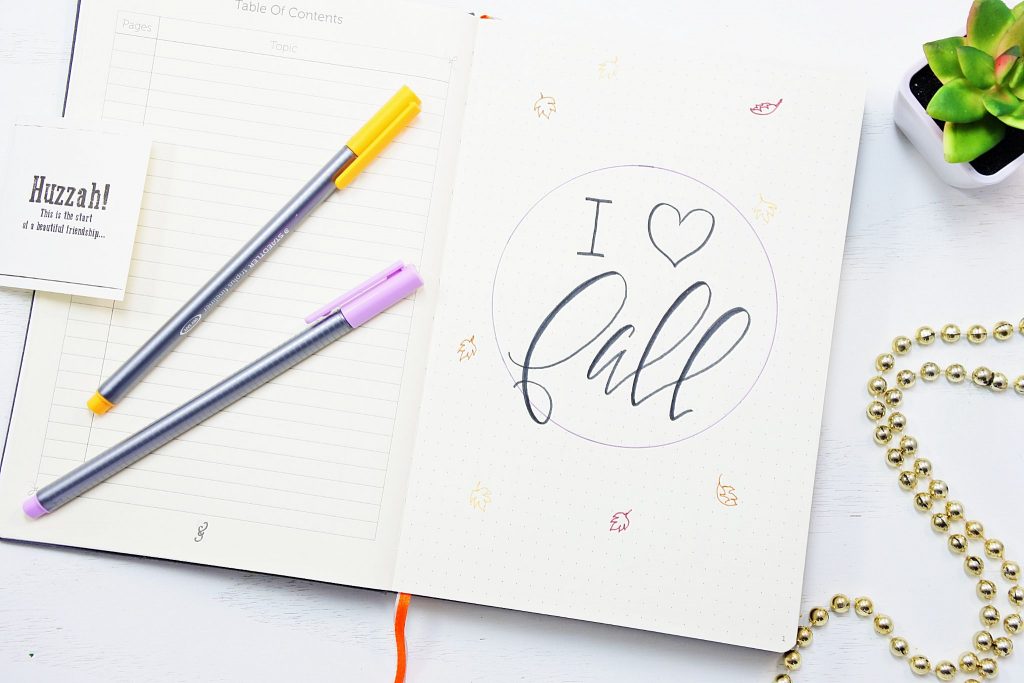 Want to see more great dot-grid notebooks? Check out the top notebooks of 2019!
Must-Have Accessory: Pad and Quill Leather Journal Cover
But that's not all! Pad & Quill also offers leather notebook covers that both protect and personalize your notebook! You can even get your initials embossed on the cover!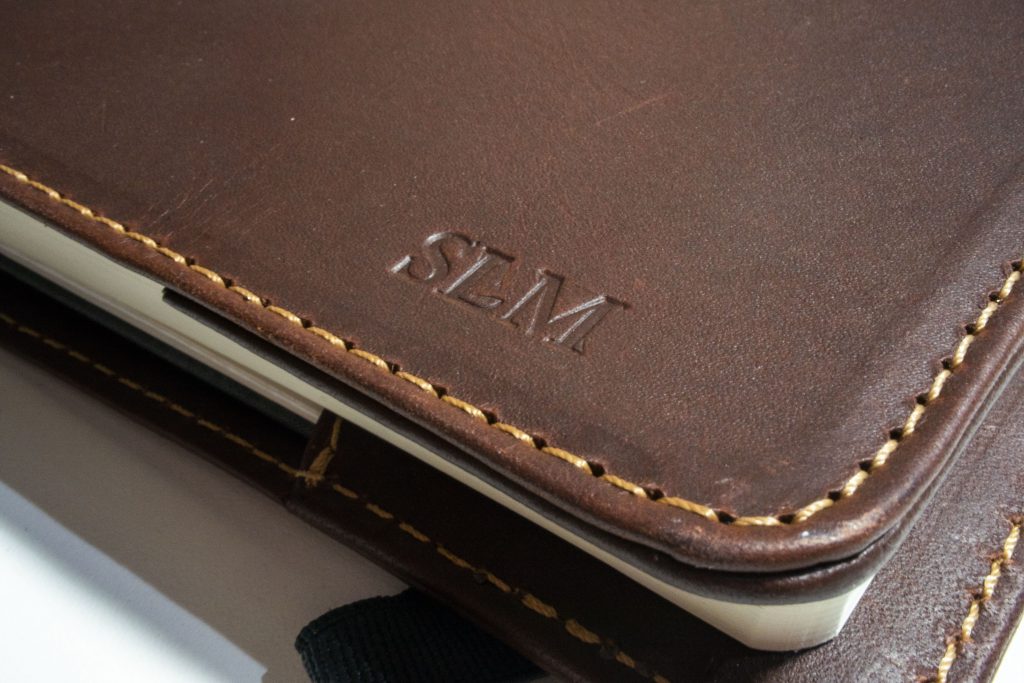 Now I'll tell you the truth, at first I wasn't that interested in having a leather cover. I'm the type of girl that really likes boldly colored journals and the leather struck me as too masculine.
BUT I WAS WRONG! Shocking I know, but it does happen occasionally. I am completely IN LOVE with this cover! The craftsmanship is amazing and the leather is soft and supple.  The contrast stitching along the edges is fantastic.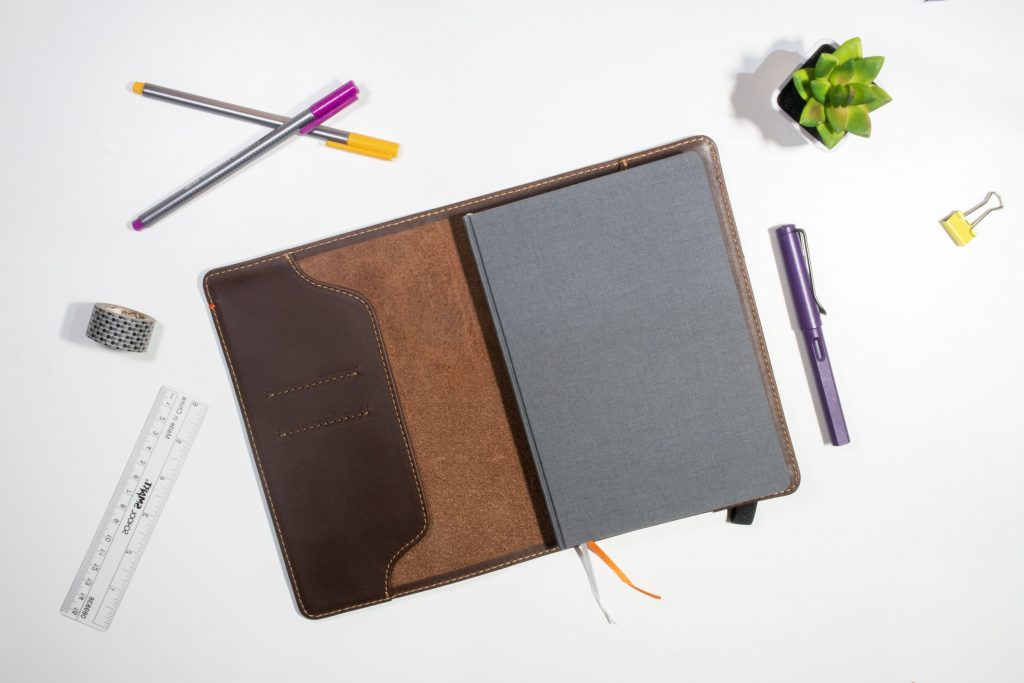 The leather comes with a 25-year guarantee but I just know that this baby is going to last forever! The leather gets softer and prettier every day! I truly cannot recommend these covers enough.
If I had to complain – and this is in no way a deal breaker – I'd say the strap on the leather cover is redundant. High-quality notebooks always come with an elastic strap. With well place slits in the leather, you could easily use the elastic closure that your notebook already comes with.
But again, it's not a deal breaker for me. This leather cover is my new pride and joy and I couldn't be happier with it!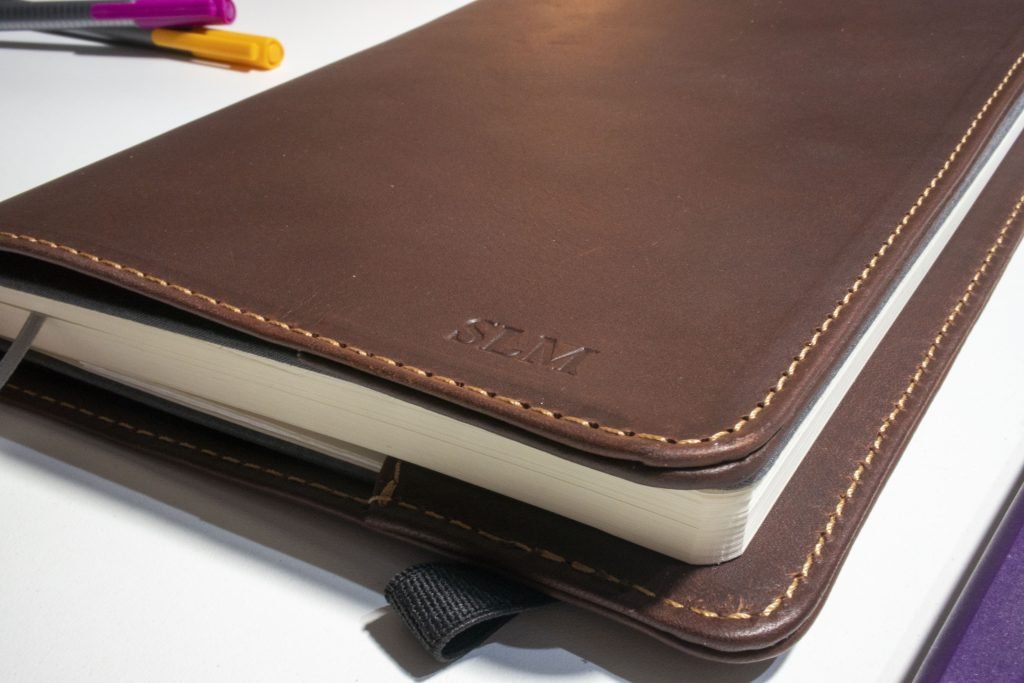 *Pro Tip: The cover is a bit of a tight fit at first. It needs a little time to soften with use. So don't panic if it seems too small at first. Use it for a few days and it will fit perfectly!
Have you ever used Pad & Quill products before? I love to know what you thought! Any other notebooks you'd like to see me review? Let me know in the comments!
Need the perfect pen to go with your new dot-grid notebook? Check out 8 bullet journal pens!