Time for a showdown! If you've been reading my blog this year, you know I'm a big fan of the famed Leuchtturm1917 notebooks. In 2 years of journaling every single day, I've gone thru 3 different Leuchtturms – and I loved them all. But recently, as Bullet Journaling grows in popularity, I've noticed some new kids on the block. The Scribbles That Matter notebook has caught my eye and as a legendary wrecker of notebooks, I've decided to put them to the test.
I've been journaling every single day for the last 6 weeks in my new Scribbles That Matter notebook. The spine has endured countless opening's and closings – the pages have met with every pen imaginable and even some watercolors! I've dropped it, stuffed it in my purse, spilled things on it, etc. Needless to say, I have "scribbled" all over this bad boy.
So after 6 weeks of heavy use – the verdict is in. Here's a rundown of how the Scribbles That Matter notebook compares to the Leuchtturm1917. Brace yourself – this is one heck of a journaling match!
Cover to Cover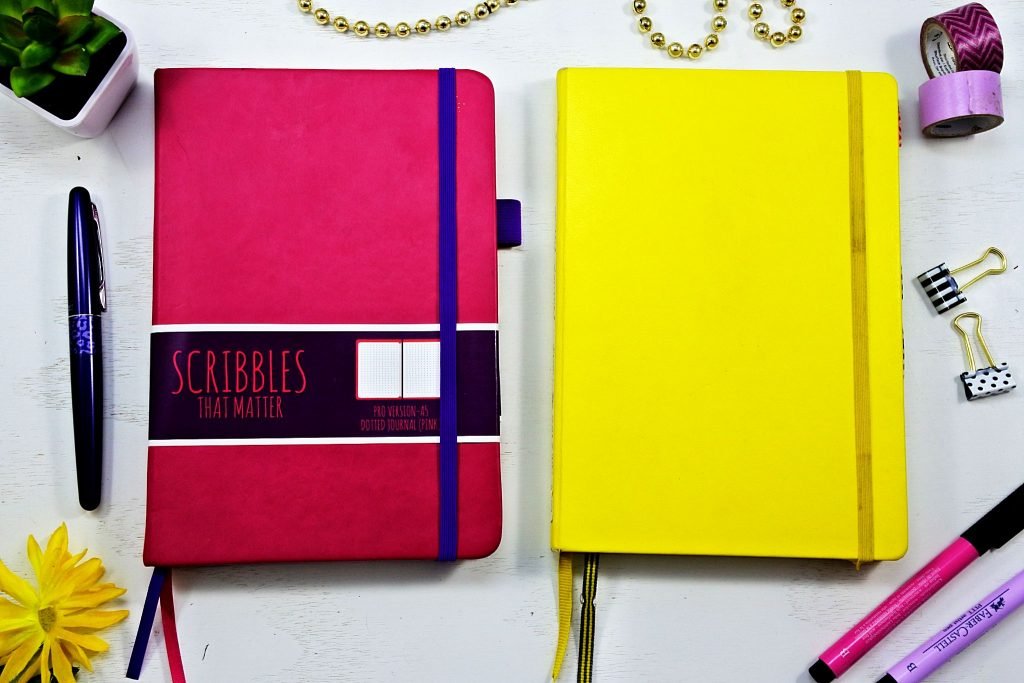 Think you can't judge a book by its cover? Well, I do. Especially a book meant for journaling. Cover's need to be durable, well made, and in my opinion – pretty.
Though the Scribbles that Matter journal is a hardcover, it's a big softie. The cover is made of a soft leatherette that has just a touch of squish to it while still maintaining its hardcover. It feels delicious in the hands and is easy to wipe clean. I've used wet wipes and wet towels with no water damage. Since it's a bit thick and squishy, it IS vulnerable to nicks and scratches, so try not to drop it in gravel or anything.
Scribbles That Matter comes in a variety of bright colors and has an embossed version that is pretty adorable.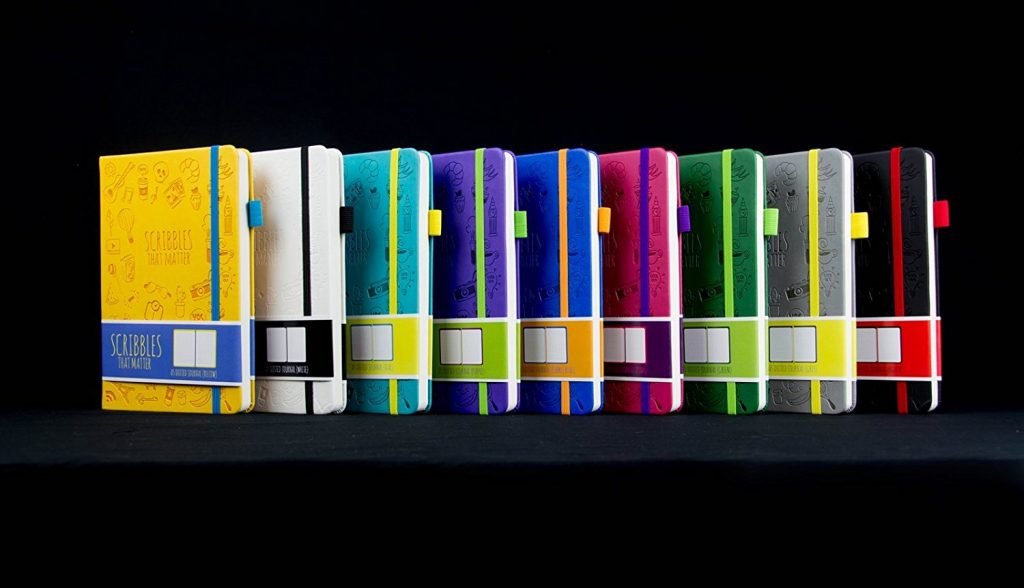 Leuchtturm1917
I tested a hardcover Leuchtturm, though they do make journals in softcover as well. The hardcover Leuchtturm is no softie. This is a true hardcover book, and it can take a beating. This cover is a bit grainy, but still plenty smooth to the touch. It wipes clean with no water damage and is very resistant to scratches and nicks.
It is, however, it is subject to cracks in the spine as you open and close it over months of use. In comparison, the Scribbles notebook more flexible leatherette keeps the spine from cracking.
The Leuchtturm also comes in a wide variety of colors.
Winner
Both notebooks sport very durable covers in a variety of colors.
IT'S A TIE!
Setup
If you're starting a Bullet Journal you need 3 things in your notebook. Numbered pages, a Key, and an Index. Yes, you can add these things yourself to a blank notebook.  But if you can get a notebook that already comes with all 3 – do it! Save yourself the time and the finger cramps!
Scribbles That Matter comes pre-printed with all 3 things you need to start your Bullet Journal – and more! As you open your journal you'll find a title page, a Key, a 3 page Index, and numbered pages thru-out.
The built-in Key page is a real time saver. You can identify all your symbols on one side and designate a color code on the other!
*BONUS! Flip to the back and you'll find a Pen Test Page!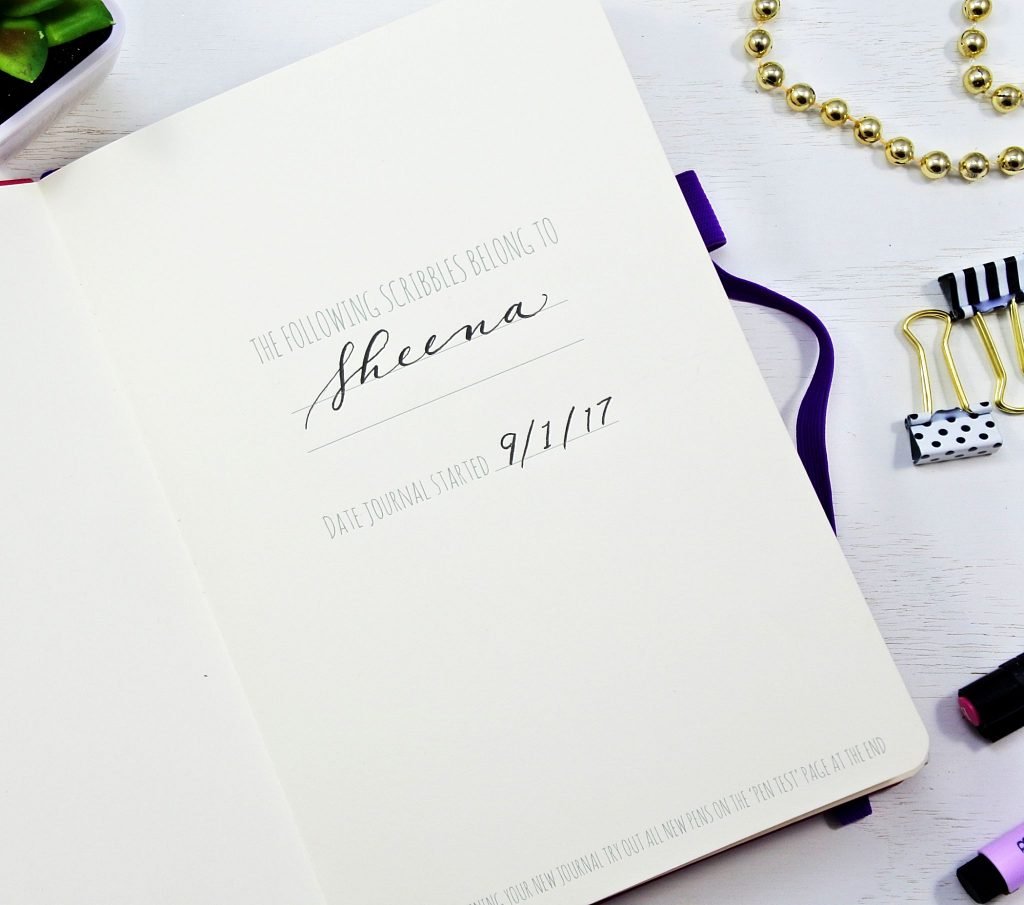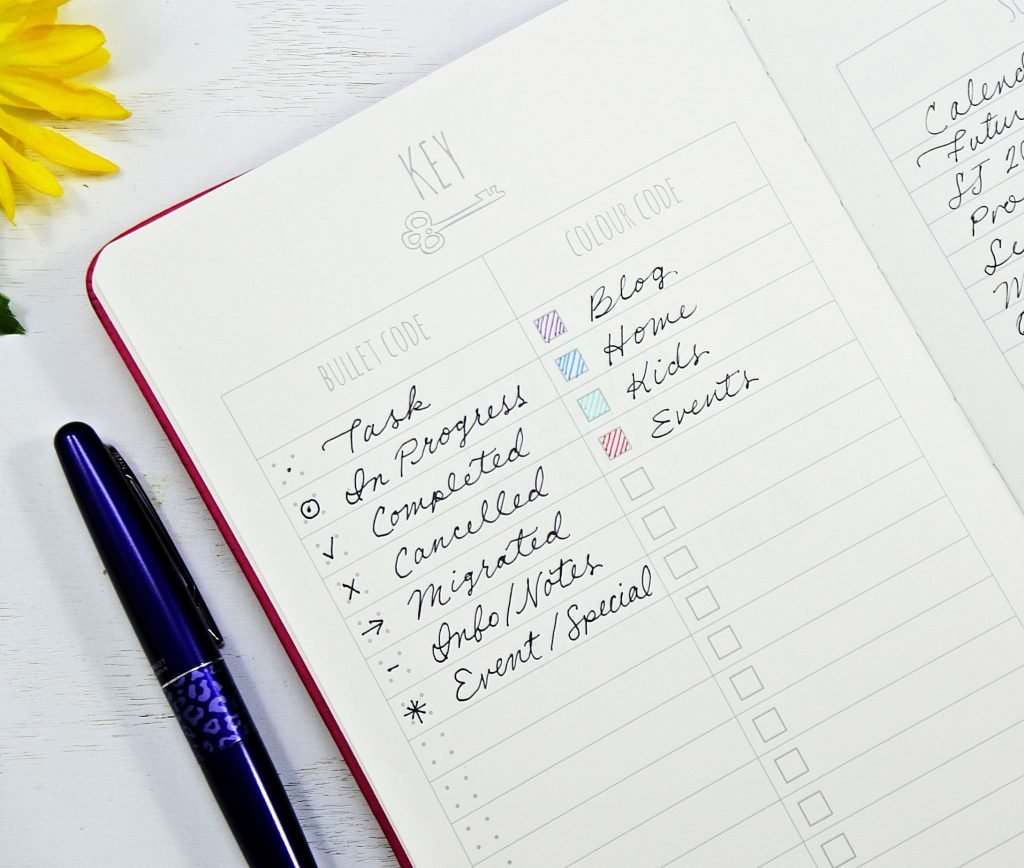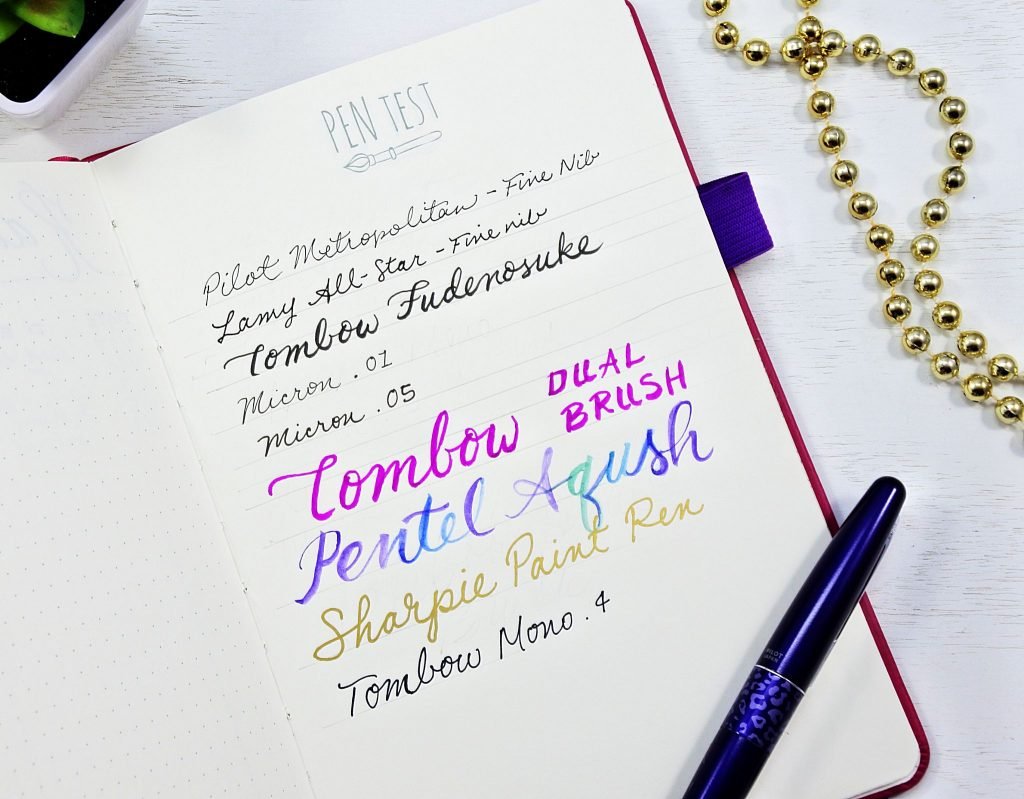 Here's a side by side comparison of the Leuctturm1917 and the Scribbles that Matter Index pages. They are both very functional, just a few design differences.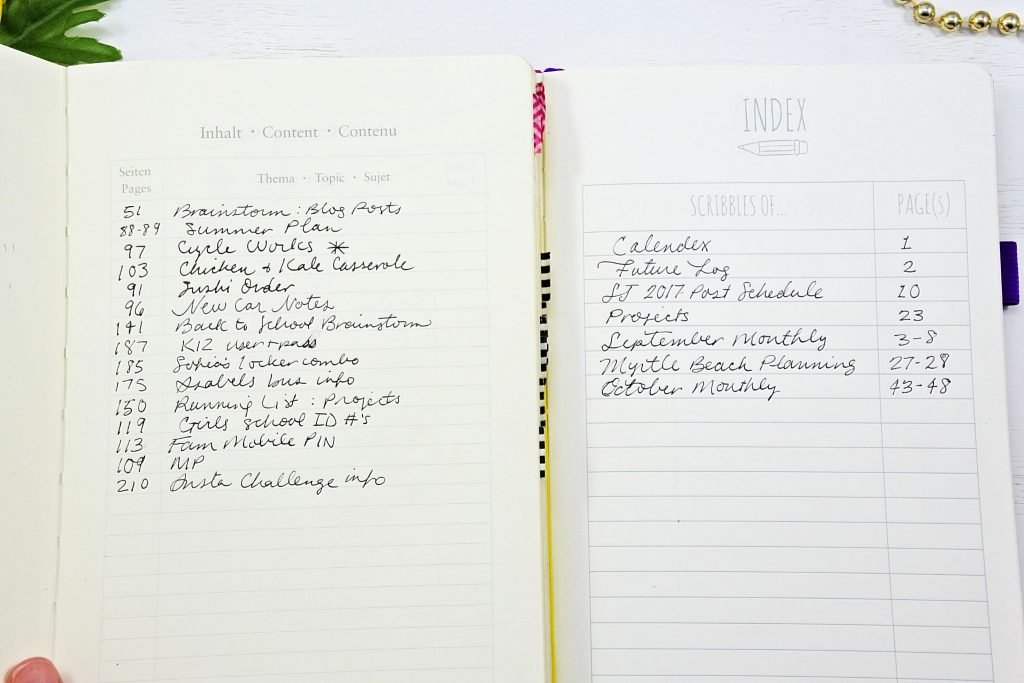 The Leuchtturm comes equipped with a title page, a 3 page Index and numbered pages thru-out. To create a Key, you'll need to use one of the first few pages and draw it out yourself. Though this does give you the opportunity to be creative, it is an extra step you'll have to take.
Winner
With two extra pages of features, I have to go with Scribbles that Matter for the win!
Daily Use
The most important aspect of picking a journal is how you plan to use it day to day. Whether as a journal, a sketchbook, a planner – your notebook has to stand up to the materials you use, the elements, and your everyday use. I can honestly say I have HEAVILY used both these notebooks and pushed them to their limits. Here's how they held up.
I was hesitant to try a new notebook as my Bullet Journal.  But I'm very happy to say, that the Scribbles that Matter notebook performs fantastically as a daily journal! It is well bound and resistant to wear and tear. The elastic closure is of particularly high quality, better than the Leuchtturm. Thick strong elastic and very firmly secured.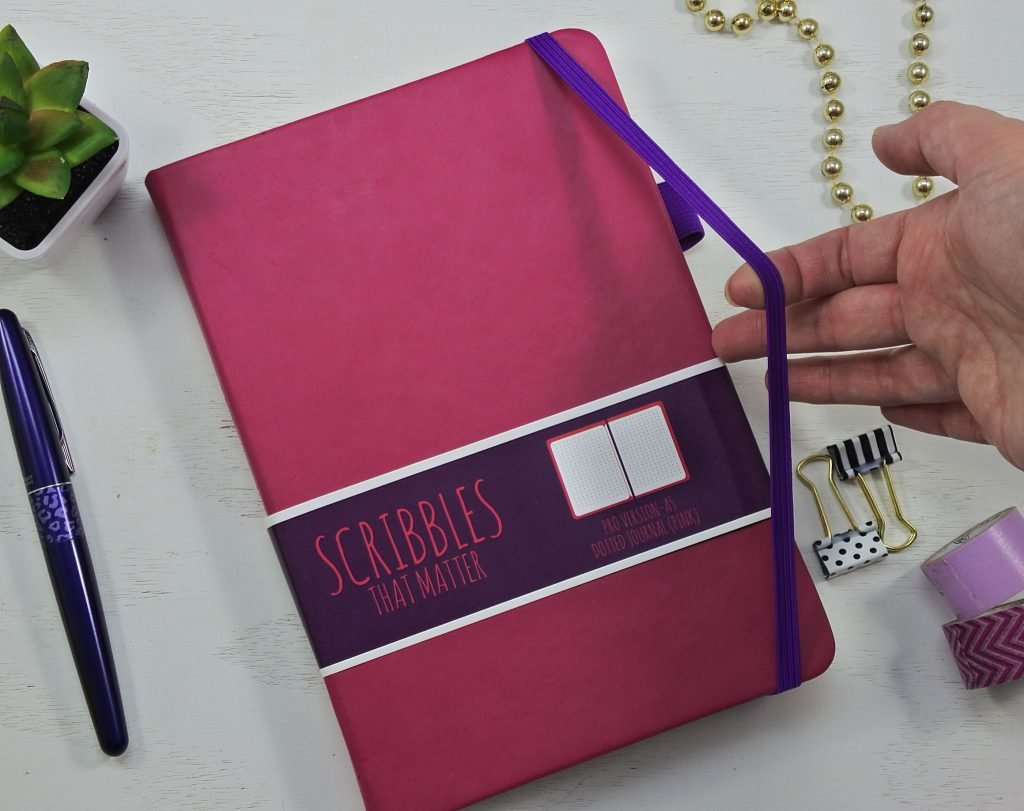 But my favorite part of this notebook is the paper. Scribbles make their pro-version notebook with premium 100gsm paper. This means it's going to feel a bit thick and very smooth. Stroke a finger down these pages and you'll want to do it again and again. Because of the 100gsm, these pages stand up to a wide variety of inks, markers, even watercolors with minimal ghosting and bleed through!
This notebook also stands out in its binding. The soft leatherette spine allows to the notebook to lay really flat when opened. This is a big pro for me. When you are writing and drawing every day, it get's annoying to have to hold your pages down as you go thru your notebook. Or worse – have to crack the spine to get it to lay flat. (shudder)
Additional Features
Scribbles That Matter notebooks come equipped with a couple extras to enhance your journal experience.
Scribbles That Matter stands out as one of the only high-end notebooks on the market that come with a pen loop. I really enjoyed this feature while it lasted, but unfortunately…..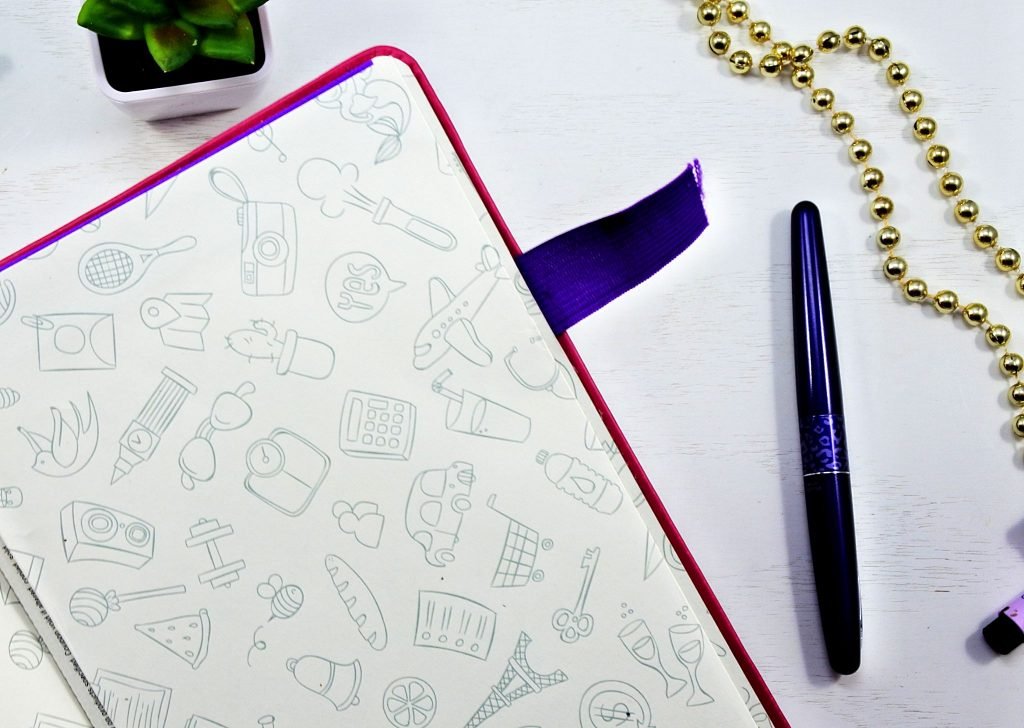 The pen loop broke about 5 weeks into heavy everyday use.
Now as sad as this was, I don't hold it against the Scribbles notebook. Pen loops are notoriously hard to integrate into a notebook. The elastic has to be sewn into the cover and then it is tugged and stretched repeatedly. There's a reason that many high-end notebook brands don't include a pen loop despite their customers asking for one. It's just a very difficult feature to get right.
The Scribbles notebook also comes equipped with a large pocket on the inside of the back cover. Here you can store notes, a small ruler, etc. I personally use it to keep invitations I receive so I always have the info with me.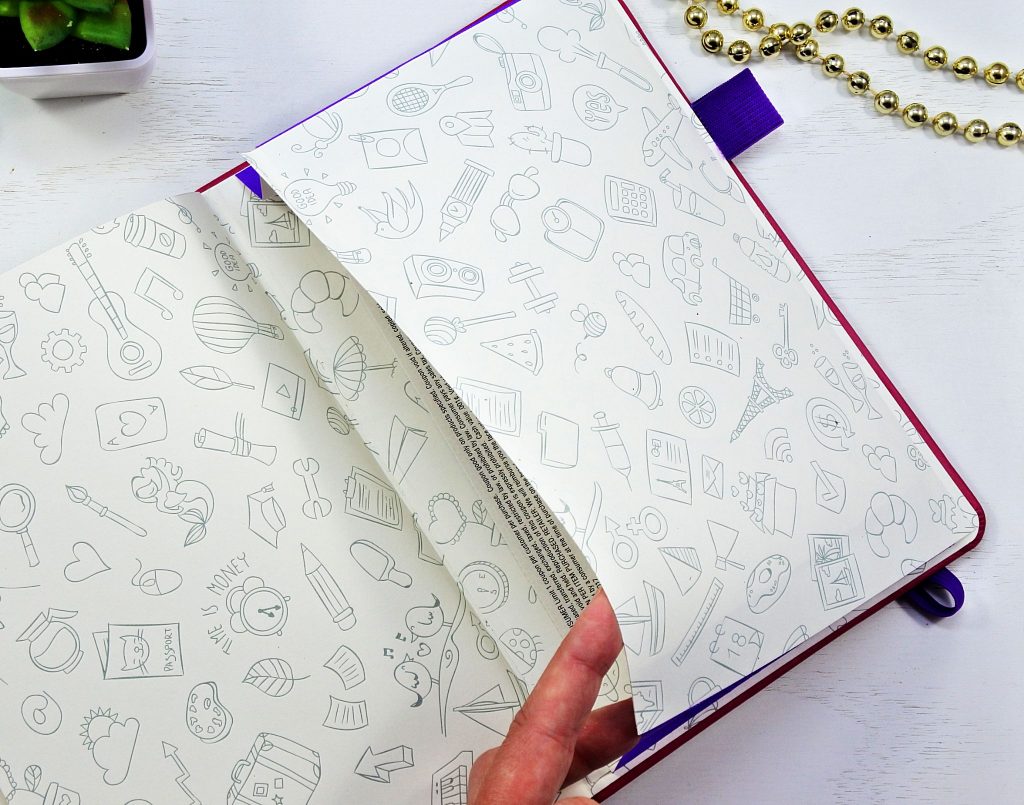 The insides of each cover are covered in these cute doodles, which you could color in if you felt inclined. I cute design feature, especially if you aren't particularly good at drawing on your own.
The Scribbles also comes with 2 bookmarks. Here's a pic of the bookmarks in comparison to the Leuchtturms 2 bookmarks.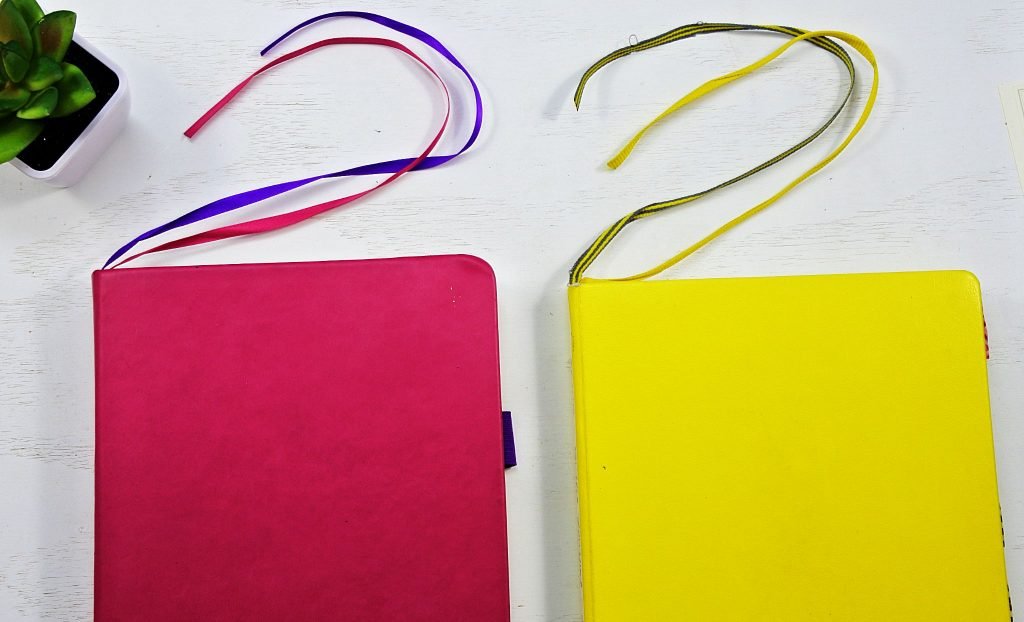 The Scribbles bookmarks are shiny and silky to the touch, while the Leuchtturms bookmarks are made of a grosgrain material. They are both convenient but the Leuchtturms grosgrain ribbon is going to be more durable than the Scribbles.
Overall, despite the broken pen loop, I found the  Scribbles that Matter notebook a dream to use every day! It's sturdily bound with beautiful covers. The extra features of a Key and a Pen Test page are fun and functional. But my favorite feature is the paper! Thick and silky, this paper can hold up to fountain pens and art supplies alike.
I'm really enjoying using the Scribbles That Matter notebook as my current Bullet Journal, and I would definitely use them again!
The Leuchtturm1917 might be the most popular notebook for Bullet Journaling and for good reason.  They are wonderfully well made and easy to use. In 2 years of Bullet Journaling, I've used  3 Leuchtturm1917s and they all held up extremely well to everyday use. Leuchtturm even released an official "Bullet Journal " edition of their notebook, with extra features and in-depth instructions. This version is not what I'm reviewing here,  but if you're a beginner who could use some training wheels it's a great option to check out.

The Leuchtturm1917 is exceedingly durable and can withstand lots of abuse. If you're a heavy everyday user, the Leuchtturm will hold up like a champ.
The Leuchtturm comes with 249 pages. This means that even with daily use the Leuchtturm can last up to a whole month longer than the Scribbles That Matter notebook. This is a big plus if you're looking to buy notebooks less often.
The paper is premium 80gsm. Now while this is high-quality paper, it is less durable than the Scribbles 100gsm paper. This is a really important distinction for me because I use a lot of different pens and markers in my journal. The higher the gsm, the better!
Additional Features
The Leuchtturm also comes equipped with a large pocket inside the back cover. I found I could fit several envelopes back there without anything falling out.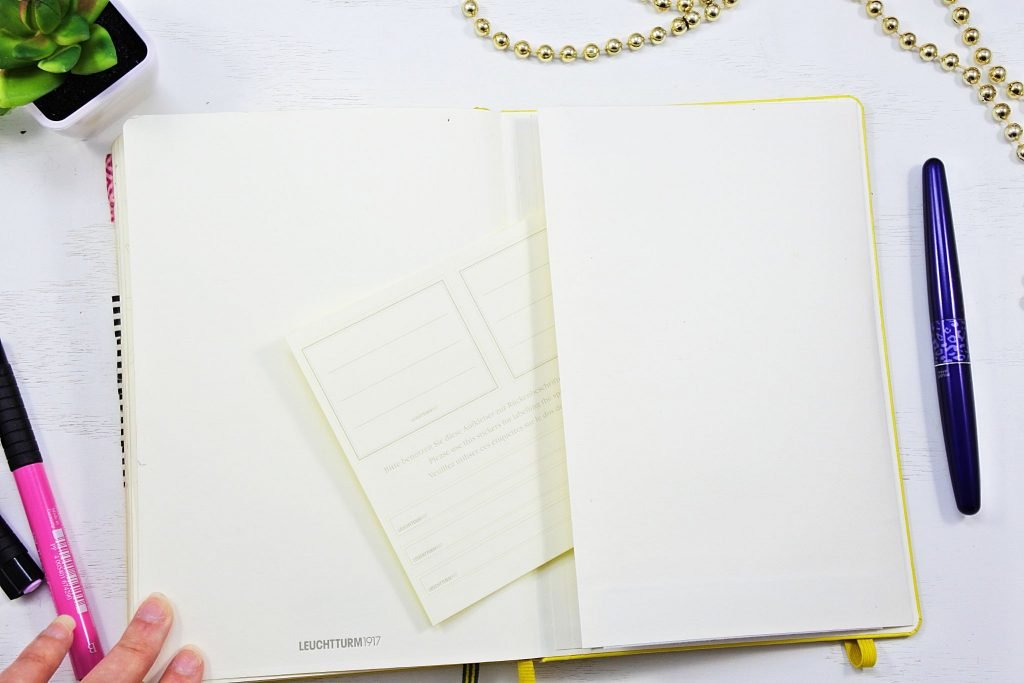 They also send along a sticker sheet with every notebook.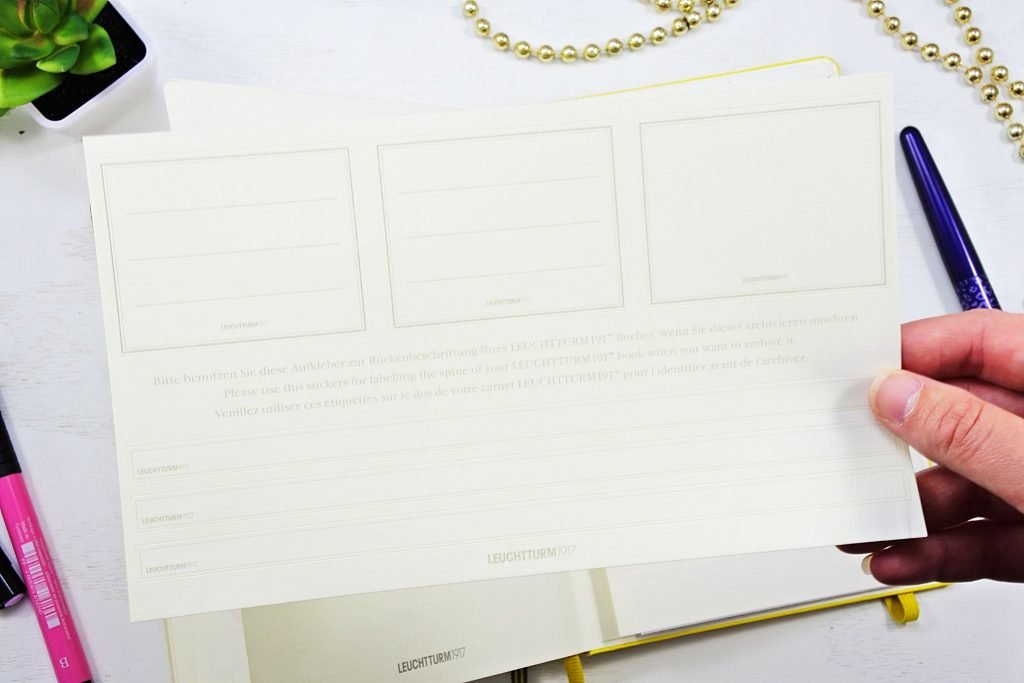 The sheet has six different label options you can fill to identify your notebook. The 3 square stickers along the top are for putting on the cover of your notebook. You could put your name and the dates this notebook covers – or you could label the purpose of this notebook such as "journal", "planner", "sketchbook", etc. The long stickers along the bottom are for labeling the spine of your notebook. I store my notebooks on a shelf in my office and these spine labels are extremely convenient for me. When I mark them with the dates that journal covers, I can easily return the correct notebook to retrieve any info I need.
Overall, The Leuchtturm1917 is a wonderful notebook for any use. It high-quality, durable and offers more pages than your average notebook.
And the winner is…
These are both amazing notebooks. They both have a lot to offer and I've thoroughly enjoyed using them both.  I'll also be honest here, and tell you that I will probably continue to buy a variety of both these notebooks as I continue on my journaling journey.
But if I had to choose…
I never thought I'd say it, but I actually think Scribbles that Matter makes a better Bullet Journal! The built-in Key and Pen Test page along with premium 100gsm paper really seals the deal for me. I will continue to buy this notebook again and again!
So if you're stuck in a notebook rut, I hope you'll give either of these notebooks a try and tell what you think!
Want to find more notebooks that make great Bullet Journals? Check out the top 5 dot grid notebooks!