Hello, Journalers! I've got the inside track on a brand new dot grid notebook for 2019 and it's a winner! I'm really excited to show you guys this one. Dingbats* has just come out with a brand new line of their iconic eco-friendly dot grid notebook and they were kind enough to send me one to put to the bullet journal test! After spending some time going over every detail, I have a lot to say and a lot to show you about this new edition to the notebook community.
If you're looking for a new dot grid notebook to start journaling in the new year, this is a great option! Read on to get all the juicy details one of the best dot grid notebooks of 2019!

*This post may contain affiliate links.
The Specs:
100% Vegan Leather
100 gsm coated cream acid-free paper
192 pages
Lay flat design
Inner pocket
2 bookmarks
Elastic Closure
Numbered pages
Pen loop
Built-in Key pages
The Pros
There are a lot of things to LOVE about the Dingbats Earth Collection dot grid notebook.
Environmentally Friendly
The first thing to note about the Dingbats is their values as a company. Dingbats is a 100% Vegan and environmentally friendly. Here is an excerpt from their own site on the explaining the great lengths they go to protect the environment, raise awareness, and remain bio-safe.
All materials used are non-animal based and hence 100% vegan as certified by the EU V-Label (www.v-label.eu). No animals were sacrificed in the making of our notebooks. We're actually the first and only notebook brand to hold this certification. You can see it below.

We make sure that there are no nasty stuff in our notebooks – even the water used to produce the paper is returned to the rivers cleaner than when it was taken out. We use degradable and recyclable materials and only FSC® (FSC-C105099) certified paper. The FSC® (FSC-C105099) label guarantees that the trees that are harvested are replaced or allowed to regenerate naturally.

One of the most common disposal technologies in the world is landfill, which is why our covering material is engineered to be degradable faux leather. Other notebook manufacturers use PVC, the most toxic plastic. Our notebooks are bio safe because we enjoy being part of nature and the material we use are manufactured in green factories where water and air emissions are strictly controlled.
Pretty cool, huh! Their new Earth Collection takes these ideals a step further by highlighting fragile eco-systems from around the world that are threatened by human activity. Each notebook comes with a two-page infographic in the front exploring the area in question, it's threats, and what can be done to save it.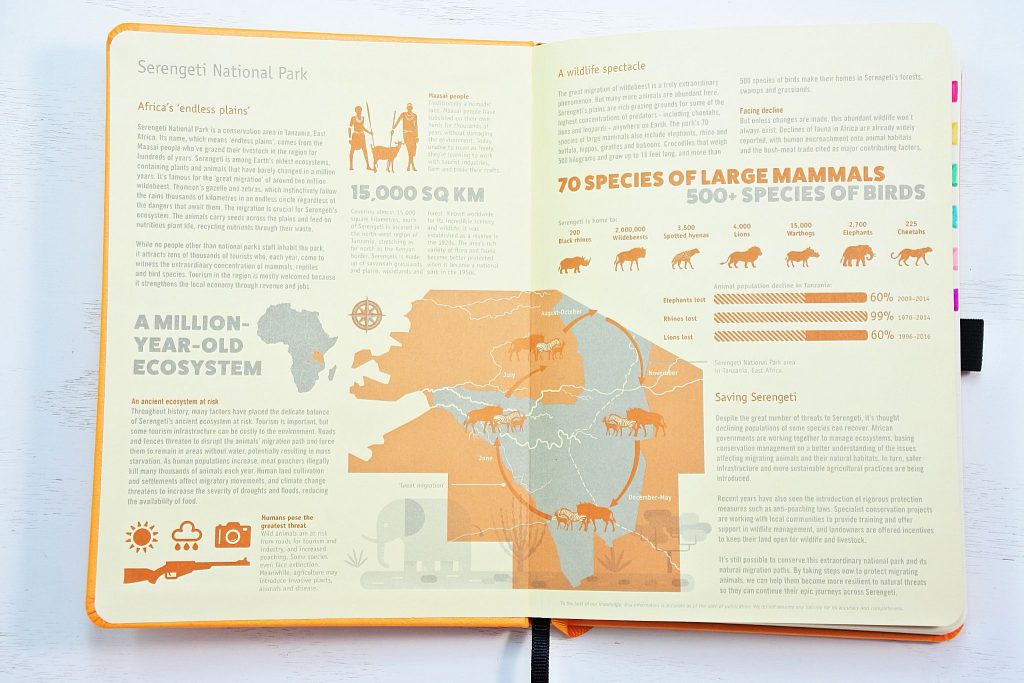 The notebook I have here highlights the Serengeti.  The Earth Collection also has a notebook for The Great Barrier Reef and The Yasuni.
The Cover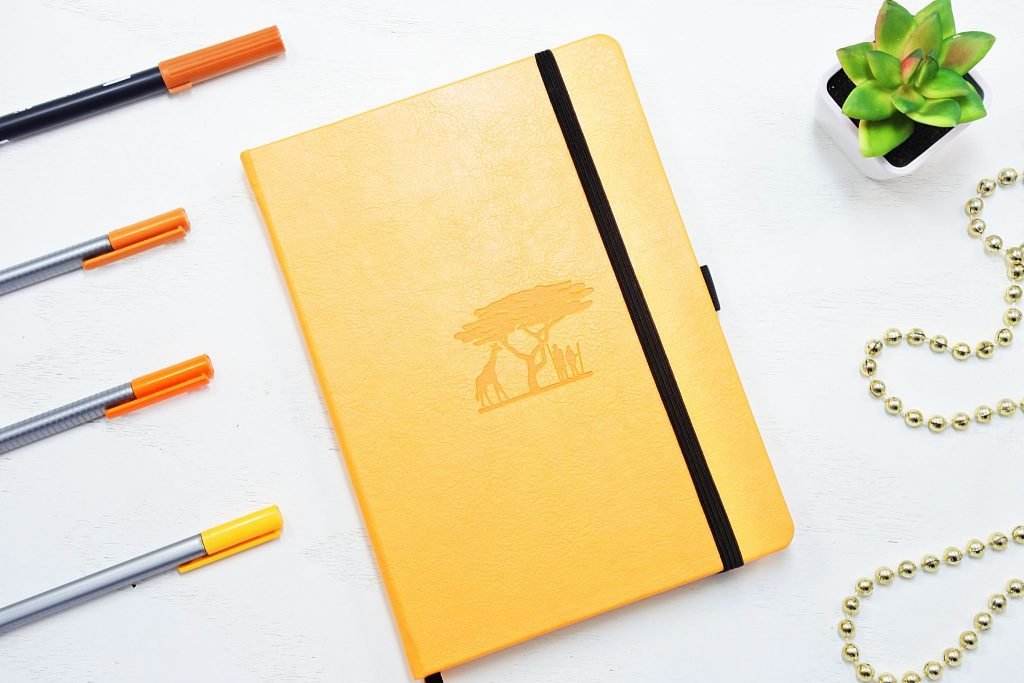 The cover is hardbound and made with 100% vegan PU leather. No animals were harmed in the making of this beauty. Each notebook in the Earth collection comes with an embossed picture on the cover of the environment they are trying to raise awareness of. They always include a bit of nature and an adorable animal. Aside from being full of virtue, these covers are also extremely cute!
The vegan leather feels similar to the real thing and has a soft grainy texture. The elastic closure is thick and strong.
If you judge a notebook by its cover (guilty!) then this vegan dot grid notebook will not disappoint!
The Tab System
One of the things I love most about this notebook is the special features! This notebook comes with two different key pages to get you started. The first key page is a brand new system that Dingbats is introducing to the notebook community – the tab feature.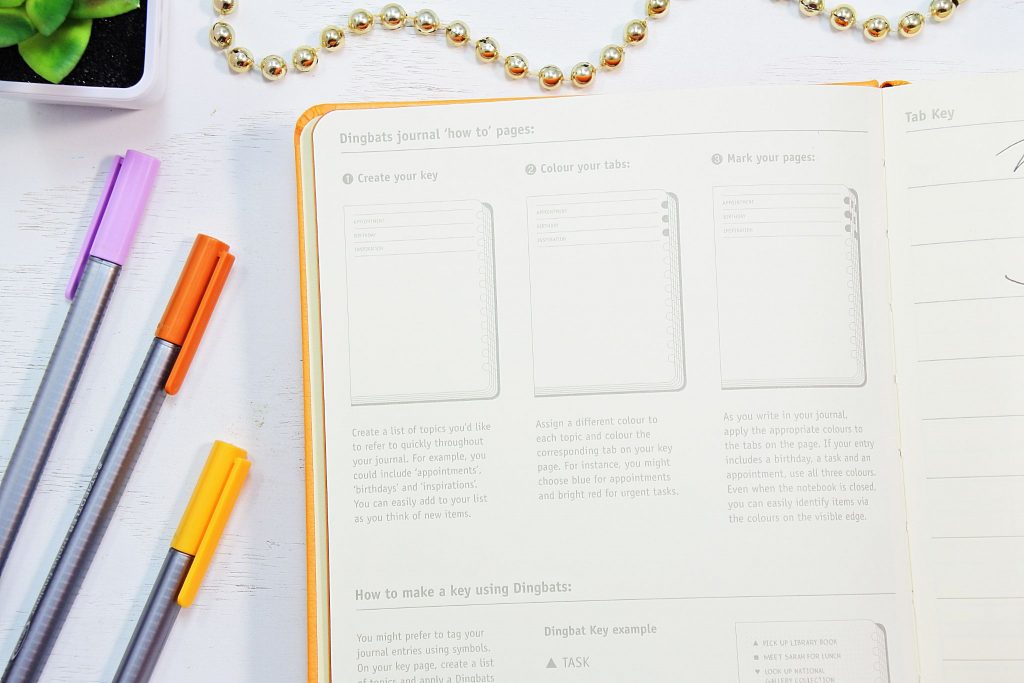 The tab feature is a series of half circles printed on the edges of every page in the notebook. In the key, you create a list of topics that you'd like to refer to quickly throughout your journal. Things like "appointments",  "birthdays",  "brainstorm", etc. Then you assign a different color to each topic and color the tab on your key.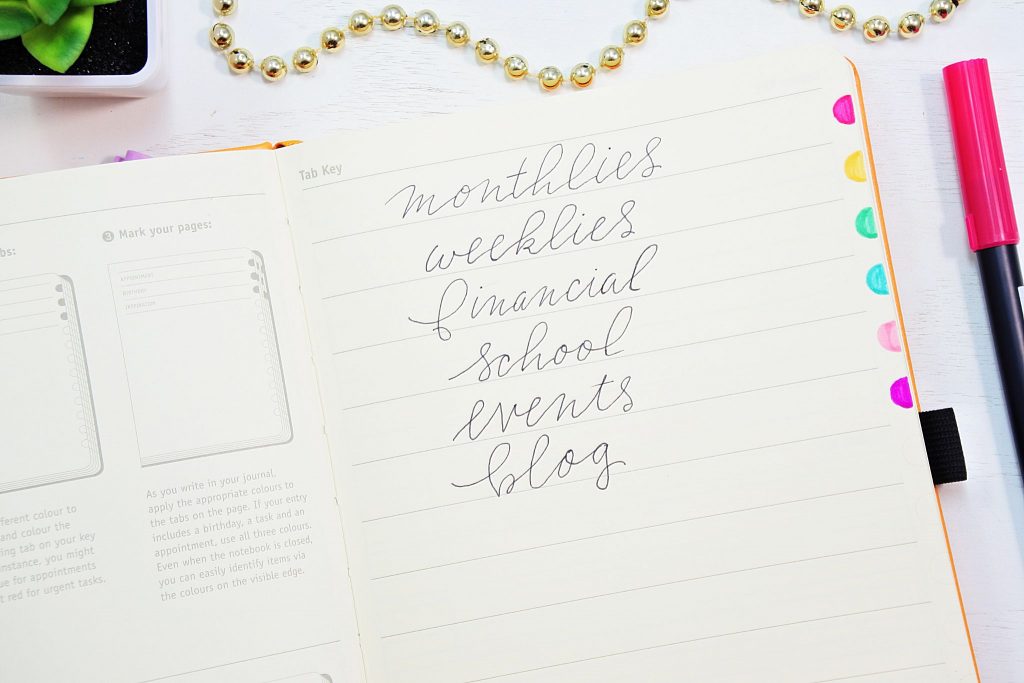 As you write in your journal, apply the appropriate color to the tabs on the page. Even when the notebook is closed, you'll be able to easily see the colors along the edge and quickly find what you want to reference!
I'm so excited about this feature! As you can see, I've filled out a handful of topics I refer back to often. I can't wait to see how it looks as I fill up the notebook!
Built-In Key Page
In addition to the Tab Key page, you also get a traditional key page built-in! If you're a fan of bullet journaling, this saves you the time and effort of making your own!
This page allows you to create a color code and a symbols code. You may prefer to tag your journal entries using symbols. An example of this would be, an arrow for a migrated task,  a checkmark for completed tasks, a circle for birthdays, and so on. To learn more about creating an effective key, check out these easy key ideas!
Built-In Future Log
These notebooks also sport a built-in future log!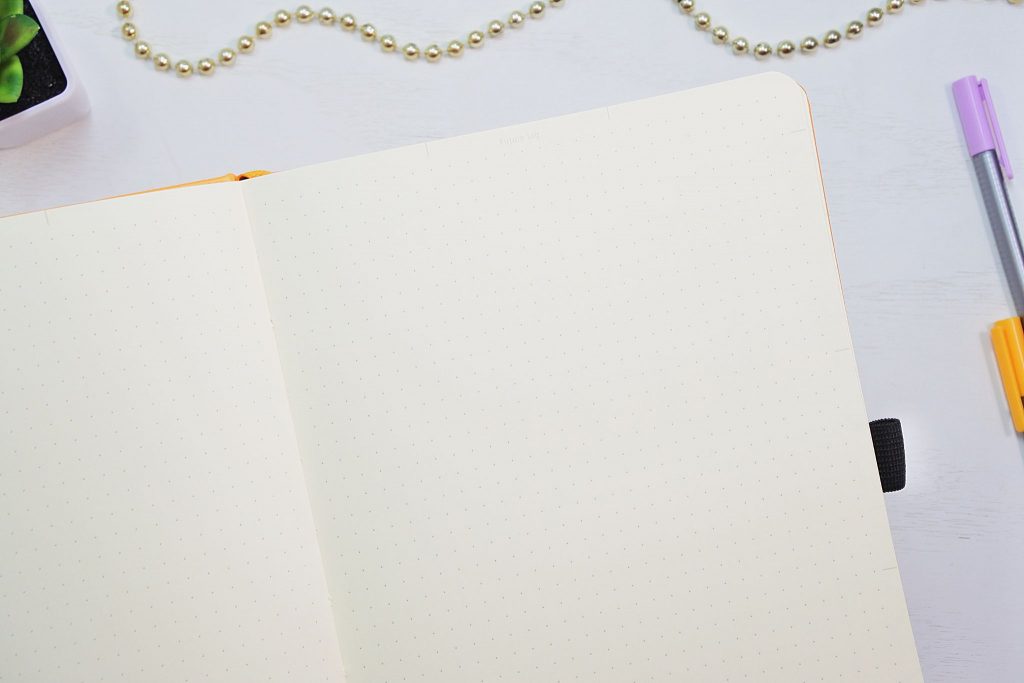 It's a little hard to see because the titles are written in a very light grey.  Along the top is the label "Future Log" and along the sides are small grey indentions separating the sections for each month. The future log is four pages with three months per page.
It's always convenient to have a template to work with! I'm going to doll this up with some colorful hand lettering of the months. But, you could easily leave this as is and have a perfectly functioning minimalist future log. Easy peasy!
Need more info about future logs? Check out my reference guide here!
100gsm Special Coated Paper
Dingbats claim to have the best paper on the market. After using their notebook for a month, I'm inclined to agree! The paper is 100gsm which means it's thicker and smoother than something you could just pick up at Target. This is great if you like to use fountain pens, markers or brush pens in your journal.
They also claim to use a special coating on their paper that makes it practically bleed proof! As a lover of fancy pens, I decided to put these claims to the test!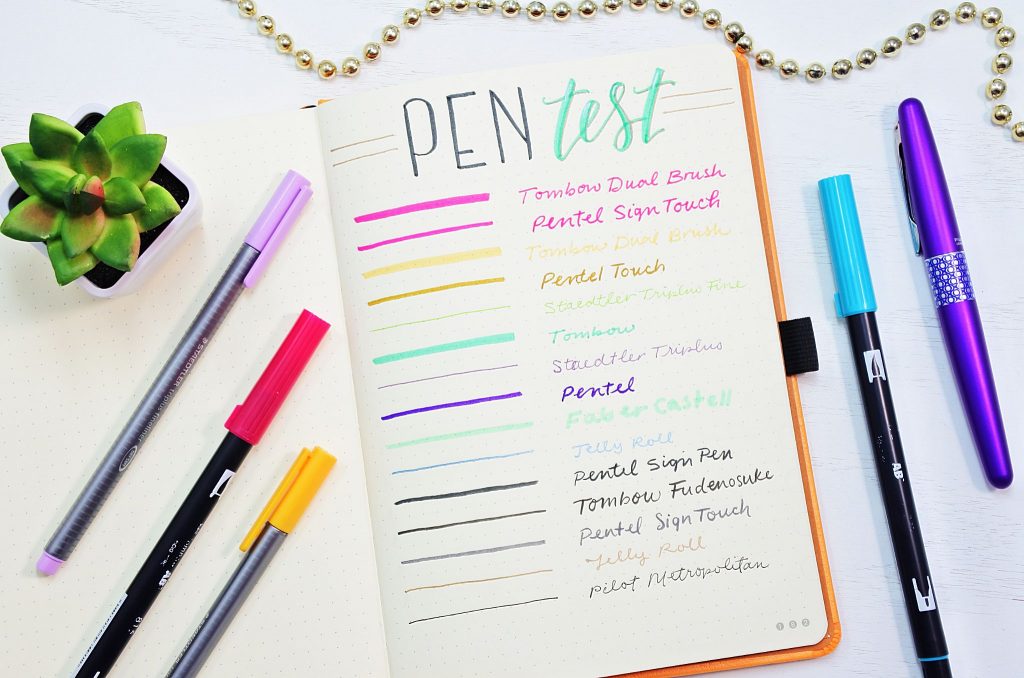 I tested the pens I use most often in bullet journaling, including some heavy hitters that ALWAYS bleed thru.
My conclusion? Dingbats did well! Though there was a minimal amount of ghosting, not a single pen, marker, or brush pen bled thru the page. If bleed thru is one of your pet peeves, then this is the notebook for you!
Pen Loop
As if all these special features weren't enough, here comes another. A pen loop!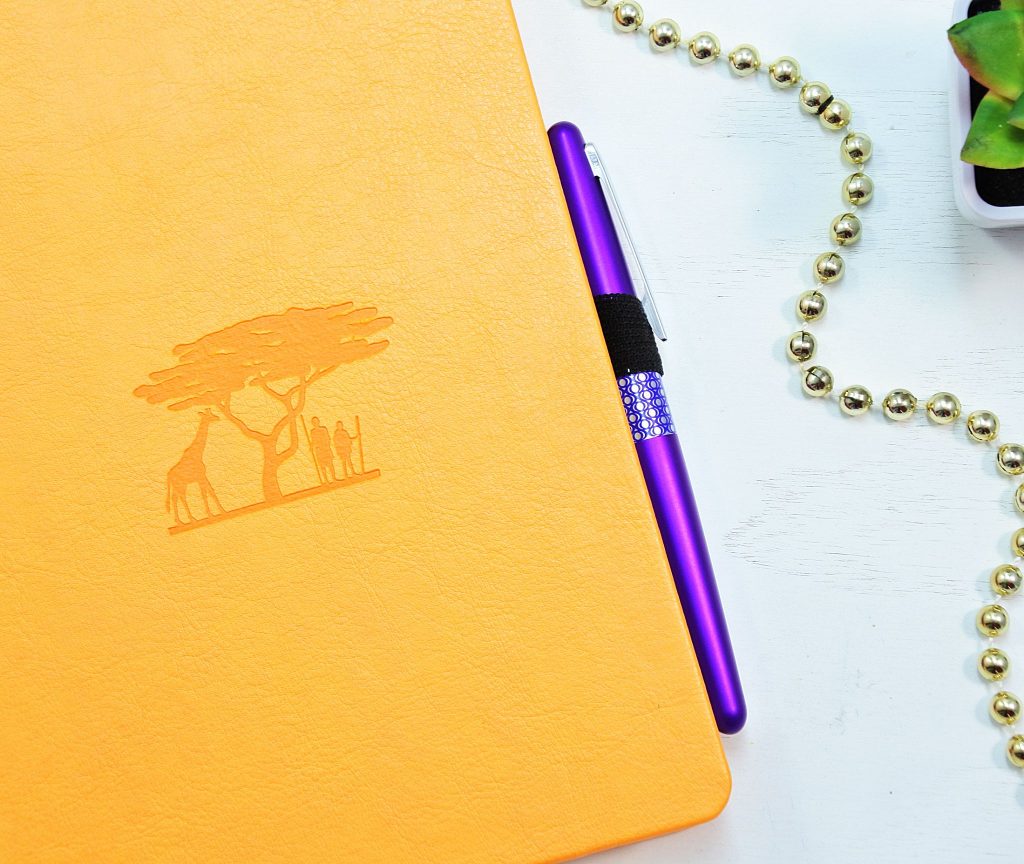 Pen loops are a hot-button issue in the notebook community. I know, we're a barrel of laughs. But seriously, everyone loves the convenience, but unfortunately, pen loops tend to fall apart. It's a hard feature to get right because attaching a loop to the cover is complicated. And when the loop gets tugged on over and over again, they tend to pop out.
So far I'm loving the convenience of this pen loop, and it's yet to give me any trouble. And given the overall quality of the notebook, I have high hopes that the pen loop will stay intact.
Additional Features
In addition to the special features, The Dingbats Earth Collection dot grid notebooks also come with equipped with all the standard features you would expect to see in a high-end notebook. Every page is clearly numbered, which is essential if you are big on keeping an index. There are two bookmarks made of grosgrain ribbon in contrasting colors. I find that grosgrain ribbon is preferable because you are far less likely to experience fraying over time. It also has a decent size pocket built into the back cover.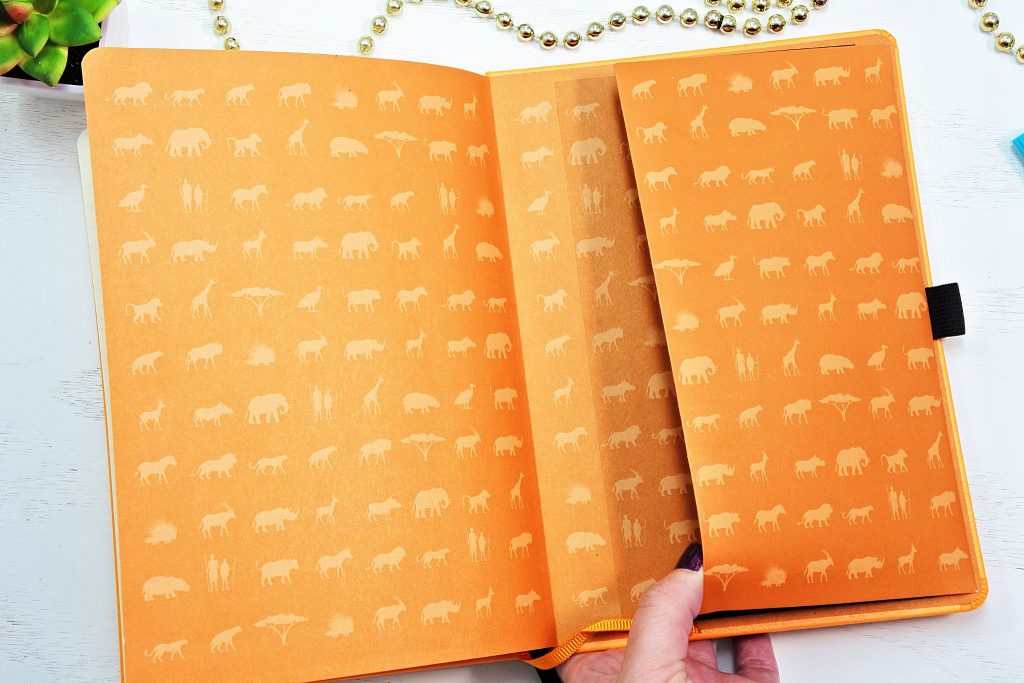 Cons
Honestly, it's hard to find anything wrong with this journal. But if I had to complain…I would take issue with it's size. The Dingbats Earth Collection dot grid notebook is billed as an A5+. A5 means roughly 5 x 8 and is generally the industry standard when it comes to high-end notebooks. A5+ puts this notebook at 6.3 x 8.5.
Now for some people, this is a good thing. More space means bigger and better layouts and in theory, your notebook would last longer.
But, if you are the type of journaler who uses printables, this could be a problem. Most printables are formatted for 5 x 8.
Also, if you are the type of journaler that likes to carry their journal with them from place to place, this is more notebook to lug around than you might expect.
For me, neither of these things are a deal breaker, but it's worth taking into consideration.
The Verdict
Overall, I am extremely impressed with the quality, look, and functionality of these notebooks! I personally will be using this as my Bullet Journal for the new year, and I expect I will use them many times in the years to come. If you're looking to start a Bullet Journal in the new year, I highly recommend you give Dingbats a try!
Need a great pen to go with your new notebook? Check out my recommendations for the best pens for bullet journaling!
How about you guys? Have you ever used Dingbats before? What did you think? What's your favorite dot grid notebook? Let me know in the comments!