Tis' the Season…for some epic planning! My December bullet journal setup is here and ready to be put to work!
With the hustle and bustle of the season, it seems even the most planner averse among us could use a good calendar! Give yourself a break and download mine for free!
*As of January 2018, the 2017 monthly printables are no longer available. If you'd still like the Hello Cover Pages and Monthly Quotes, you can grab them by clicking here. If you'd like the free printables for the current month, sign up below or click here.
You can print these pages out to use in your A5 size journal, or download them to use in your digital journal! So grab your watercolor planning pack below!Supplies I used to create these pages:
For a full explanation on each of these spreads and how I use them for monthly planning, click here.
December Bullet Journal Setup 2019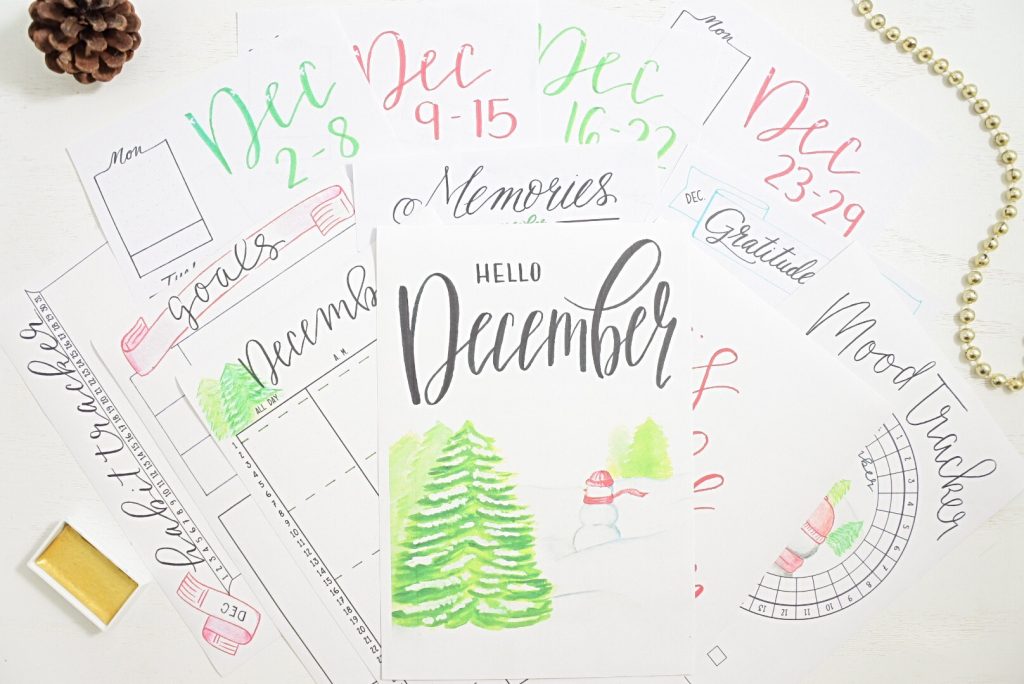 18 bullet journal printables for December! Here's what you'll get in the December 2019 planning pack:
Watercolor December Cover Page
Quote of the month
Monthly Calendar
Goals and Tasks Worksheet
Habit Tracker
Mood Tracker
Gratitude Log
Memories Page
4 Weekly Spreads
You can get every page of this December setup by clicking here! If you'd like to sign up for the free printables, scroll to the bottom!
When you sign up for December's Bullet Journal Setup here's what you'll get.
Watercolor Hello Page & Quote of the Month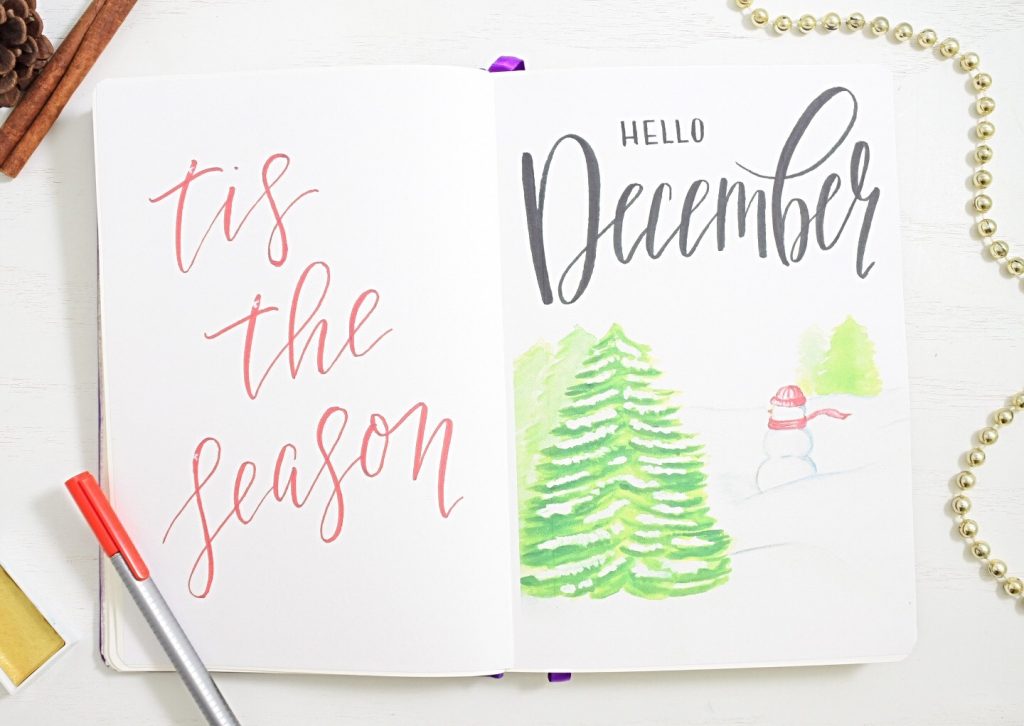 I love creating a new theme for every month with a cover page. It really gets you in the mood for the season! Not to mention, it makes your bullet journal a lot more fun to use!
Want a new cover page for every month of the year? Check out my hand painted packs of cover pages!
Monthly Calendar, Goals, and To Do list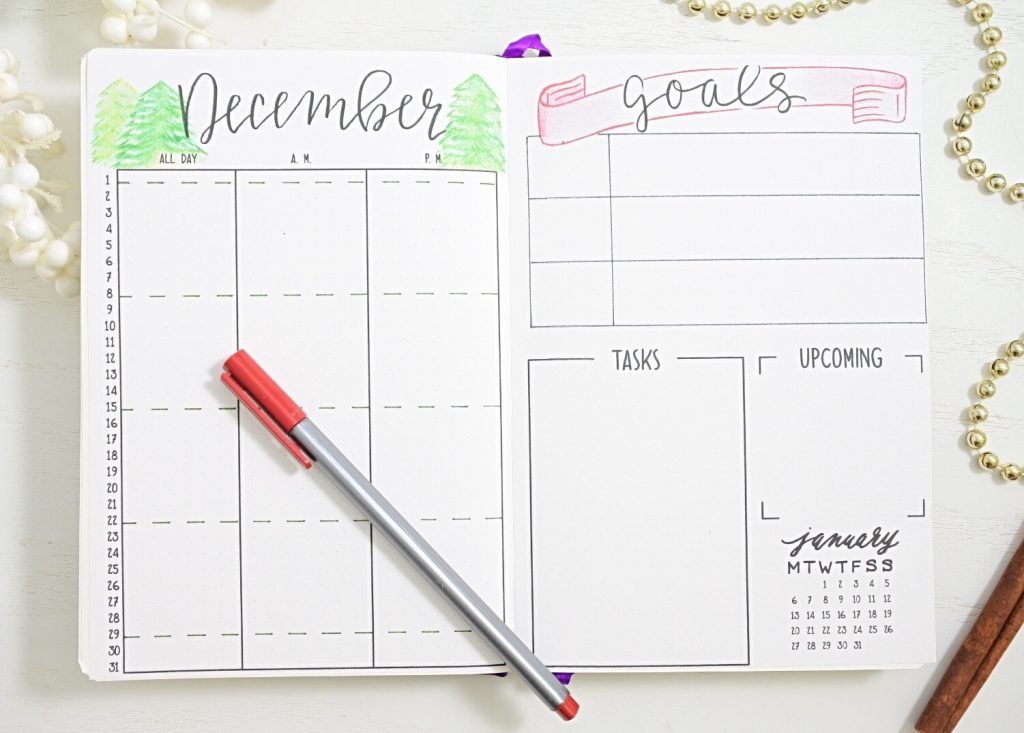 A monthly calendar is a must in any bullet journal setup! Especially for a month like December! For step by step instructions on making the most of your monthly planning, click here!
Monthly Habit Tracker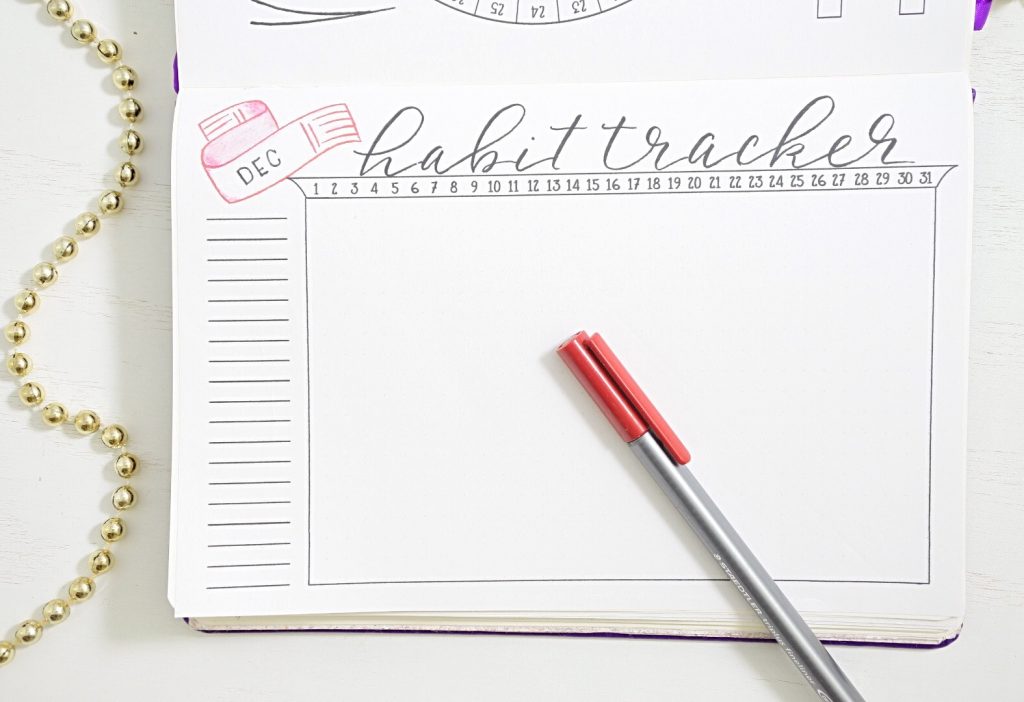 A habit tracker is one of the most productive spreads you can have in your planner! Especially as you start making those New Years resolutions! Track exercise, water intake, chores, etc. Anything you want to develop into a habit!
For more info about Habit Trackers, click here!
Gratitude Log & Memories Page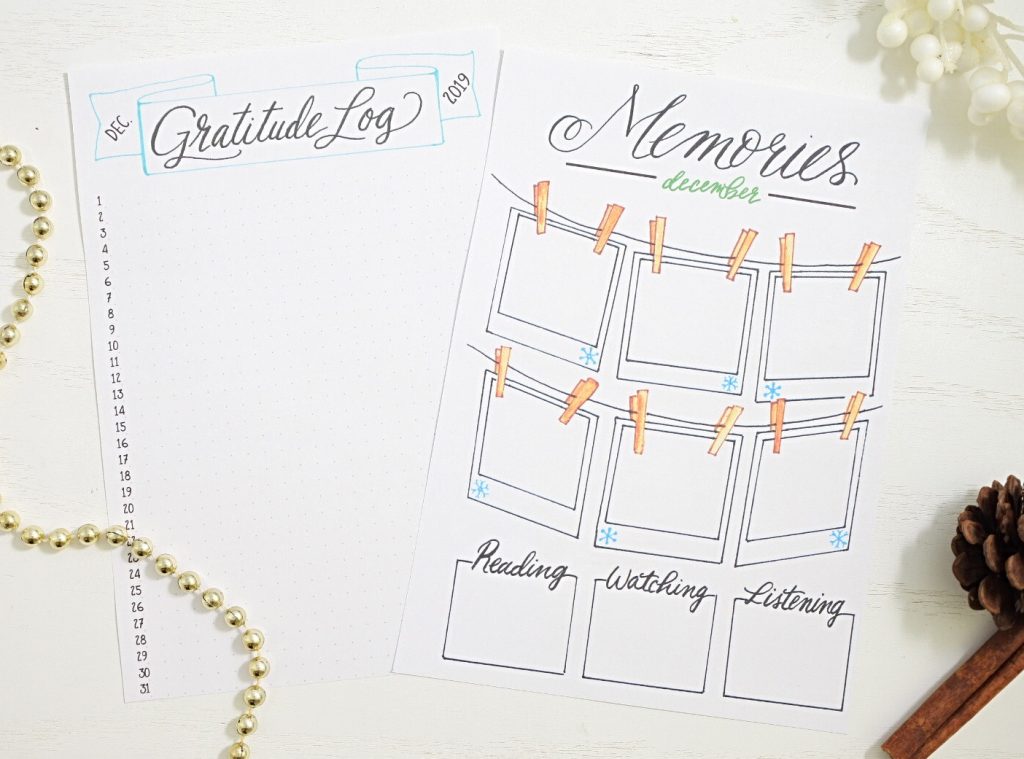 December is a perfect time to start a gratitude log and tracking your favorite memories. No matter what traditions you celebrate, it's likely you'll get in some extra family time this month!
For a full explanation of Gratitude logs, click here!
December Mood Tracker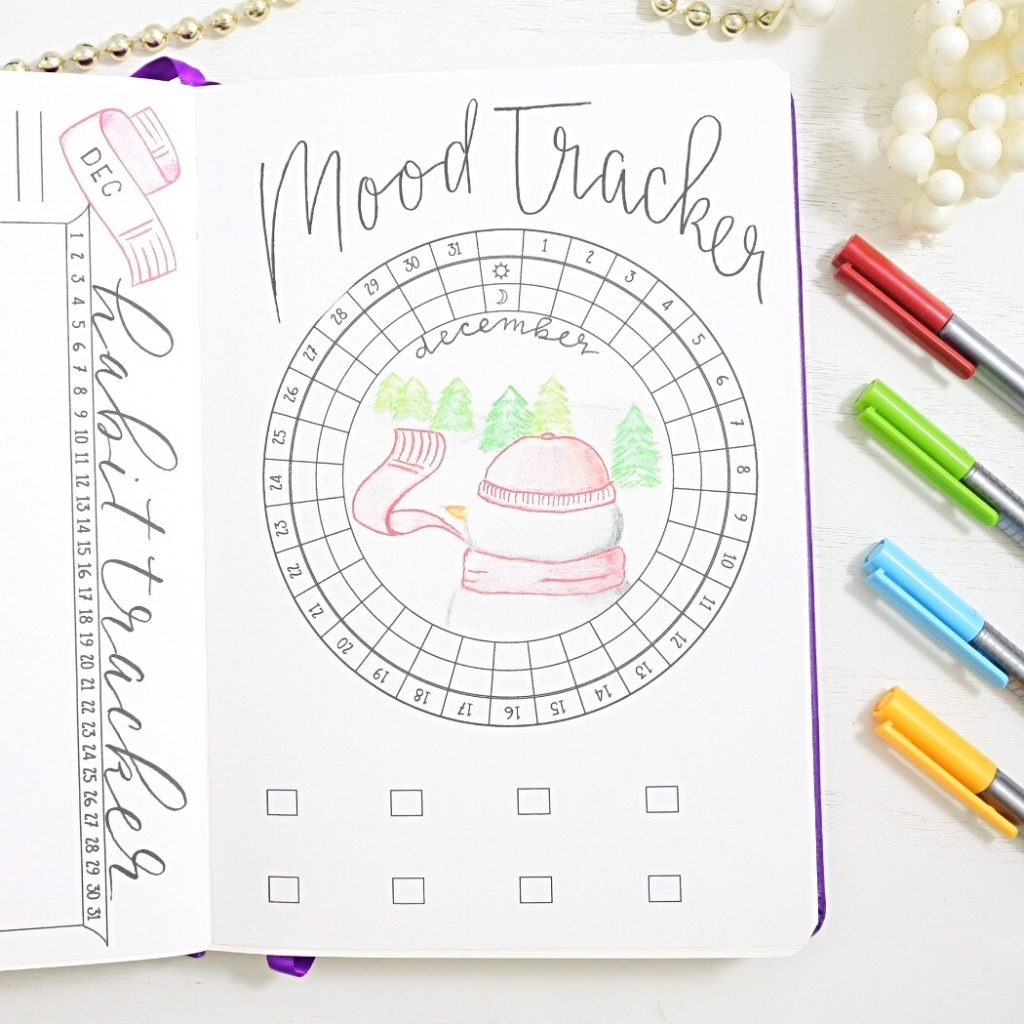 Mood trackers are a great way to monitor your mental health, especially in a busy season! By keeping track of your mood on a daily basis you can identify triggers – and manage your moods mindfully! This makes for more and more happy days!
For more info on mood tracker check out Amazing Mood Trackers for Your Journal!
December Weekly Spreads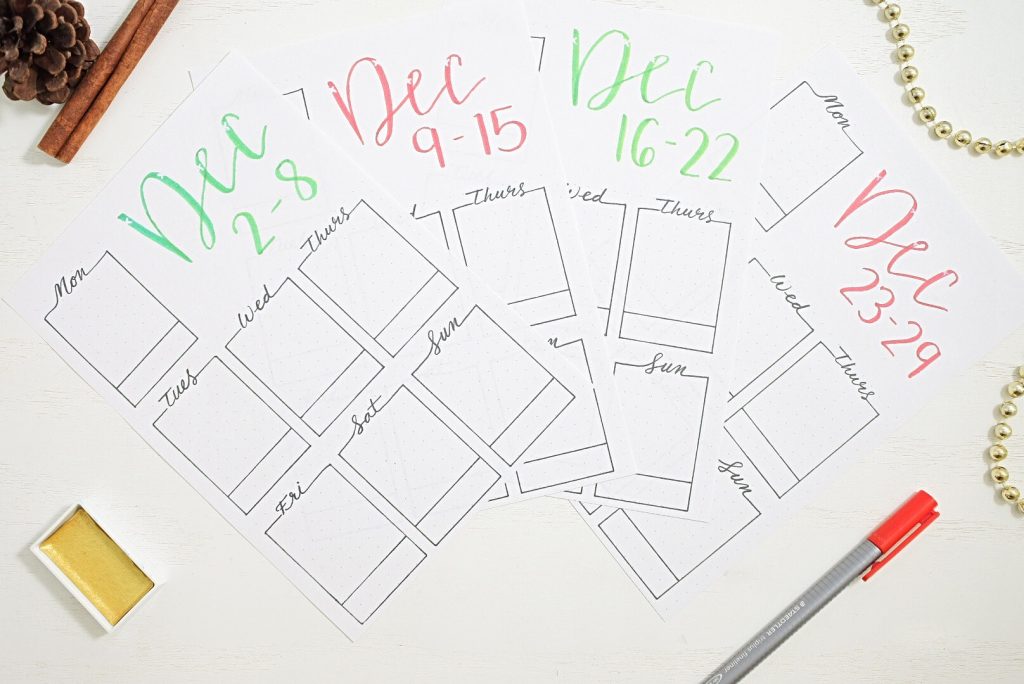 Each weekly spread includes a section for your Weekly Schedule, To Do's, Meal planning, Shopping list, a Tracker (for things like water intake, hours of sleep, exercise, etc), and a section to write down what's happening next week so you're always prepared. At the bottom of the boxes for each day is a place to record the weather.
Here's an example of how you can use the Tracker on your weekly spread.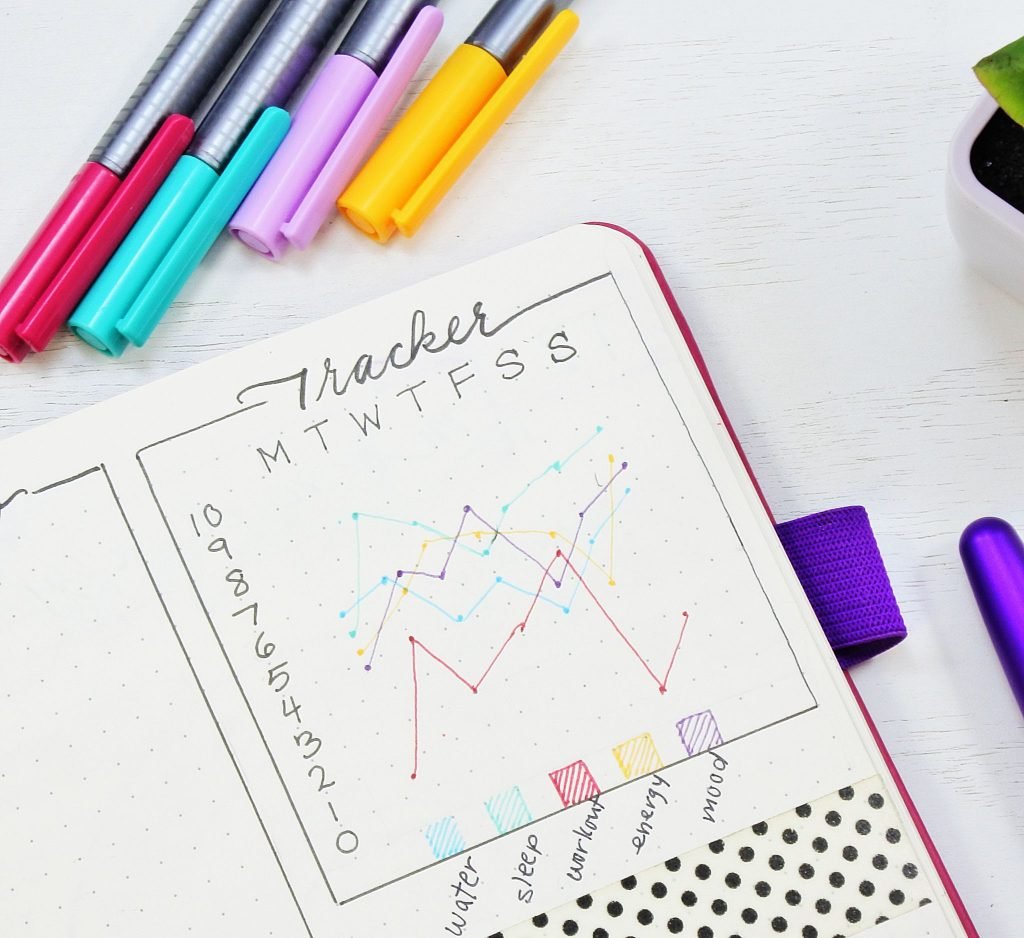 With this tracker you can measure the degree to which you've accomplished what you set out to do. For instance you can track exactly how many glasses of water you drank, how many hours of sleep, your level of physical activity, etc.
And of course, I always have free stuff for my friends. I'm offering the December Cover Page, Quote of the Month, Monthly Calendar and Goals and Tasks pages all for FREE!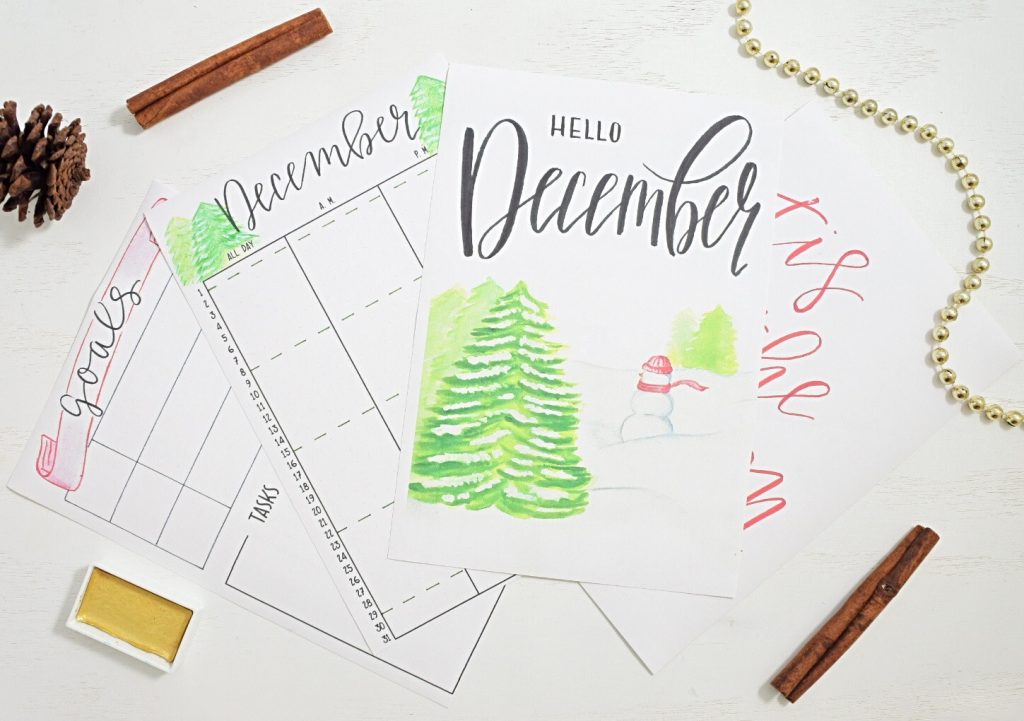 Get your free December Bullet Journal Setup!
Already a Journalista?
If you've already signed up, click here and enter your password to get your free December planning pack!
Perfect DIY Stickers
I highly recommend printing them out on these Avery shipping labels. I know, it sounds weird, but they fit absolutely perfectly in any A5 size journal (roughly 8×5). No wrinkled paper or awkwardly taped edges, just a smooth easy transition from my journal to yours :). They're the perfect DIY sticker!
For more info on how to use an Avery Label as a DIY sticker, click here.
Sign up here for Your Free December Printables