*As of January 2018, the 2017 monthly printables are no longer available. If you'd still like the Hello Cover Pages and Monthly Quotes, you can grab them by clicking here.  If you'd like the free printables for the current month, sign up below or click here.
Time for another monthly planning session! April is around the corner and I'll be honest, I'm happy see March go. March proved to be as tumultuous a time as I expected. After several school events, a big family wedding, and unfortunately, 2 funerals, I'm in need of a lazier month. April isn't completely the snooze fest I'm dreaming of, but It'll do.
So lets dive in! All these spreads are available as free printables! Scroll to the bottom to sign up for yours! If you're already signed up you can head to the Printabundle Library and enter your password.
Supplies I used to create these pages:
HELLO APRIL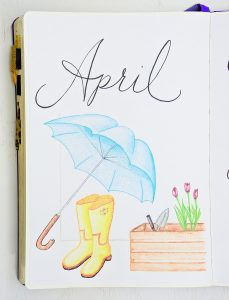 I love doing these intro pages. Not only are they just plain fun to draw, but they really get me in the mindset of the time period I'm entering. Keeps me motivated to keep planning ahead. Not to mention it makes my bullet journal so much more fun to flip thru!
When I sat down to think about April, the first thing that popped into my head was that old ryme from elementary school: " April showers bring May flowers." It takes a lot of rain for spring to be officially sprung. And I can't wait. A few rainy days in a row would soothe my soul.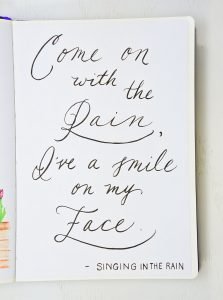 I'm actually a big fan of old musicals and Singing in the Rain might be my favorite. If you've never seen it, see it! 
Even if you're not a musical fan, you probably can sing this song by heart. Its a classic for a reason! I thought This particular excerpt was perfect for 2 reasons. One, I love rain, so of course I'll have a smile on my face! Two, if you want to get abstract and see rain as representing trials in your life, I think its pretty inspiring to say "Come and get me! I'll be waiting with a smile."
APRIL CALENDER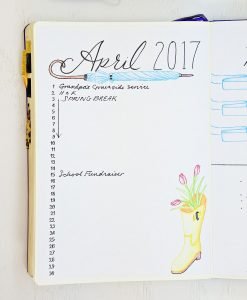 I'm really holding out hope that I will not be particularly busy this April. But, should any events or deadlines come knocking, this clean linear style will help me see everything I've got scheduled at a glance. When I'm planning my week or my day, I can flip back to this page and whats scheduled. Then I always know how much time I really have.
APRIL TASKS AND GOALS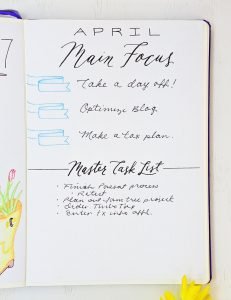 Here I map out what I need to focus on this month, as well as the myriad of little tasks that I need to find time in my schedule for. At the top, I list my main priorities. I've found this really helpful in keeping me from getting distracted with all the little things that take over your day as a parent. If I'm not careful I can easily see a whole month go by without ever finding the time for those big goals. By keeping it simple and concise, I've got a shot at actually feeling productive come months end :).
The bottom half of the page is a general brain dump of things that are coming up and need to be addressed this month. These aren't necessarily time-sensitive, it just helps to have a general list to reference when doing my weekly or daily planning. It's so easy to forget when I don't write things down! This list helps me to keep that little stuff from falling thru the cracks.
APRIL TRACKER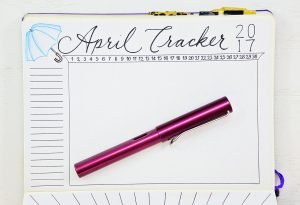 For those of you looking to form new healthier habits, a monthly tracker is for you! List the habits or tasks you want to keep track of along the side, and then mark what you did each day. This spread can really give you insight into how often you are really accomplishing what you set out to do. Once you have a clearer picture of how often you perform certain activities, it's so much easier to set realistic goals for yourself, and gradually grow into those habits you want to make a part of your life.
GRATITUDE MANDALA
This month I've redesigned my gratitude log! Inspired by the many variations I've seen using rays of sunshine. I decided to take my favorite things to draw – mandalas –  and turn it into a way to log something good about your day. I call it Good Vibes. It has 30 "rays", one for each day of the month. 
In this spread, you write down, every day if you can, something in that day you feel grateful for. So even on your worst day, you are forced to take a step back and look on the bright side. The act of being mindfully grateful has been shown to have long-term effects on your health, your self-control, and your general satisfaction in life. 
GET YOUR FREE APRIL PLANNING PACK!
All of these spreads are available as free printables for you! I highly recommend printing them out on these Avery shipping labels. I know, it sounds weird, but they fit absolutely perfectly in any A5 size journal (roughly 8×5). No wrinkled paper or awkwardly taped edges, just a smooth easy transition from my journal to yours :). They're the perfect DIY sticker!
If you've already signed up, click here and enter your password to get your free April planning pack!
Sign up here for Your Free April Printables
I'd love to hear how you plan your months! Any new planning pages you'd like me to make available as a free printable? I'd be happy to answer any questions and I'd love to hear your ideas! Let me know in the comments!