We all know bullet journaling is addictive. It's even more addictive to watch how other people journal, and compare yourself. I often get caught up gazing at all the inspiring bullet journal pages I have streaming thru my social media feed on a daily basis. The colors..the fonts..the productivity.. if I were a cartoon my eyes would be giant glossy hearts, and there would be some kind of soft rock playing in the background.
As a parent you might feel starting a bullet journal is out of your reach. A notebook without crayon scribbles AND accomplished tasks…dream on. I've got band practice, bathtimes, dinner to cook, toys to trip over, crying fits to sooth, homework to resent, spills to clean, sleep to be abruptly woken from, more spills to clean, etc.
What's a parent to do?
Yes, life is unpredictable and often chaotic when you're a parent. Finding the time to sit down and plan can seem as out of reach as your house staying clean for more than 20 minutes at a time. I too am in the trenches – 2 preteen girls, and a toddler boy – so basically the worst possible age for each gender.
I"m here to say that it is possible, and better yet, that it will make your life easier. For parents in the trenches like me, finding an organizational system for your time and tasks can make a world of difference in your quality of life.
Here's why you should, how you can, and what you need to get started.
WHY?
The reason to give it a go is quite simple. I don't know anyone who craves order and control over one's time more than parents. The daily conundrum of how to take care of your own needs and everyone else's is enough to start you on the road to therapy.
A Bullet Journal is ideal for people who:
 have a million to-do lists on various scraps of paper

have goals floating around their brain that never get attended to

want

to be good at planning or who want to be more organized

would really love to be the type of person who keeps a diary, but has trouble sticking with the habit
A bullet journal is an ideal tool for imposing some order on your life without a big commitment of time and money. It's designed to be infinitely flexible, so you never run out of space for your ideas, tasks, goals, or venting sessions.
Most of all, you gain insight over where your time goes. Knowledge is power. Writing everything empowers you to make better decisions. It's that simple.
HOW?
Lay A Foundation
It works like this. You take a blank notebook, any blank notebook, and start a key, an index, and a future log. To learn more about creating these pages in more detail, click here. This is something you only do once at the start of every new journal. My Bullet Journals last about 5-6 months, so you only do this work twice a year. Here are some examples of what those look like.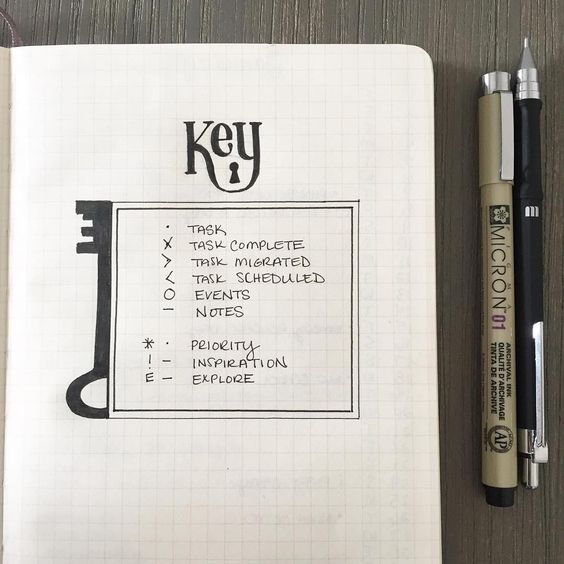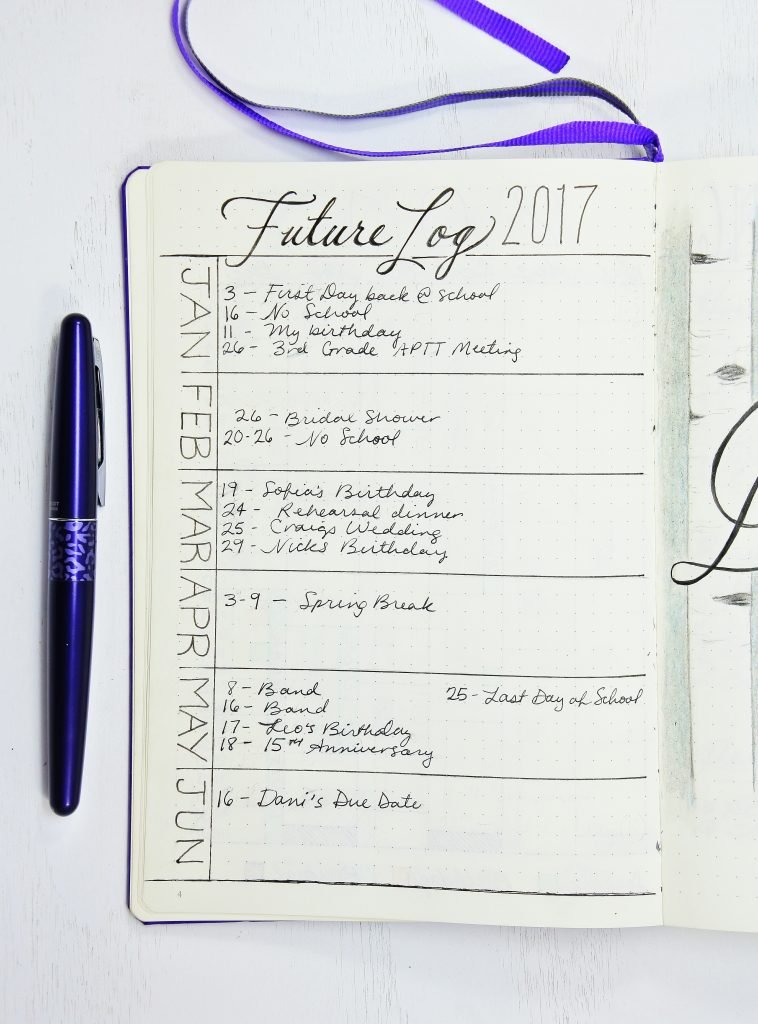 Start Writing!
Foundation completed! Now you're ready to sample all that accomplishment and control. Now every day, You simply write down your to-do list, jot down events on the schedule, things you want to remember, etc. You can structure this under daily headers – or not, keep it free flowing. You'll never lose your info because at the end of every day you fill the index with where to find these random lists and musings. So be as structured or wild as you want. As long as you keep an index you're home free. Here are some examples of what those dailies can look like. You could also stick to monthlies, or go week by week. I personally do all three!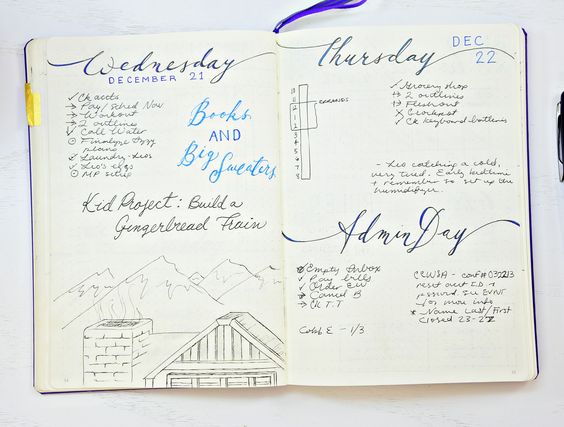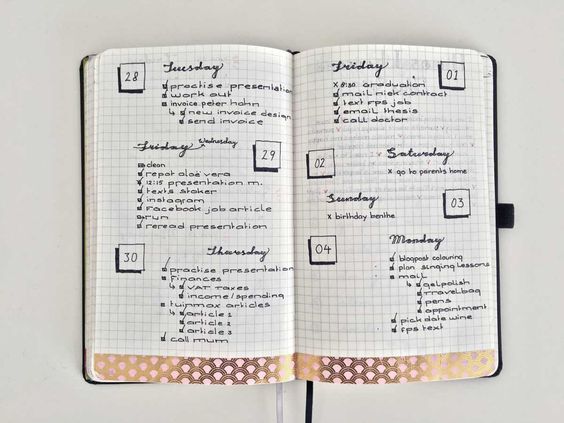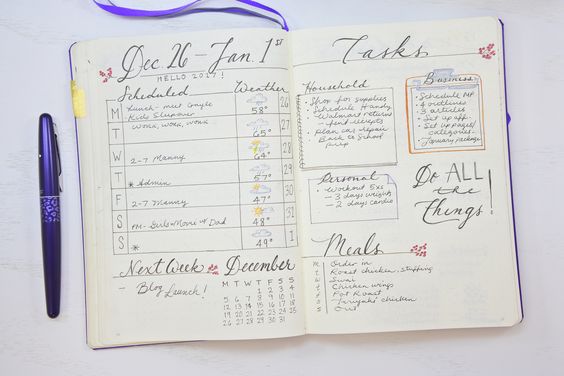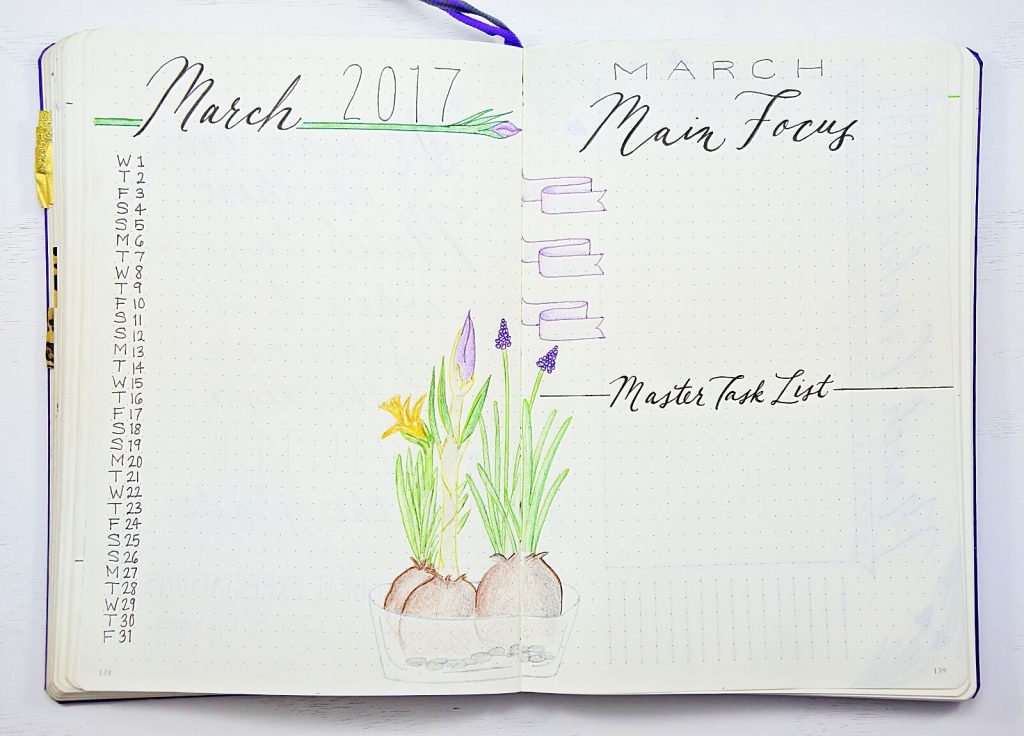 How do you find the time as a parent to accomplish these wonderous things? I personally do the bulk of any setup like this, and any prep for the next day, at night after the kids are in bed. This could be pure meditative quiet time for you if you're the type that's been craving silence since about 7 in the morning. Though I'm a fan of silence, I personally like to settle down on the couch with my journal, a glass of whiskey and a grown-up tv show on in the background. This helps me feel like I'm not still working, and I'm winding down at the same time as I plan my day. I'm all about the multi-tasking.
But do what works. If you're more of a morning person, get up a ½ hour early for a quiet cup of coffee and a quick planning session. I promise you, the peace of mind will be well worth it.
THE BASICS.
What do you need to begin this magical journey to endless productivity?
If you're keeping it simple, all you really need is 2 things. A notebook and a pen. You can use any you have lying around, but I would suggest getting yourself a special notebook. If you want it to truly catch all the info you need it to, you'll probably carry it around a lot, stash it in the diaper bag, that kind of thing. You need a sturdy well-made notebook to hold up to the rigors of parental life. Plus, daily use can wear out a standard notebook pretty fast. Not to mention that as a parent I'm pretty sure you're way overdue on treating yourself. Give yourself the gift of productivity!
I've been Bullet Journaling faithfully every day for about a year and a half, and these are notebooks I've tried and loved!
This is the champion of all notebooks. It has a high-quality hardcover, which I highly recommend as a parent. Plus, it comes with its own index built in! I've used 2 of these so far, and I'm completely in LOVE!
I used a Moleskine as my very first Bullet Journal. I loved its slim size and portability. It doesn't hold up quite as well as a Leuchtturm if used religiously,  but it would be perfect for those taking a minimal approach and using their Bullet Journal more gently than I do.
The Rhodiarama has extremely high-quality paper and a soft leathery cover. I still use mine religiously as a morning pages journal. When combined with a quality pen, these notebooks provide a fantastic writing experience.
In the pen department, you just need something you love that doesn't run out on ink too quickly. Again, I'm a fan of treating yourself when you're starting a long term love affair like bullet journaling. But go as simple or as fun as you want. Here are some that I've personally loved using!
The Pilot Metropolitan is the perfect beginner fountain pen. You get a high-end fountain pen experience for a very reasonable price. And it comes in many colors and styles!
These are perfect everyday pens and great for a minimal starter kit. You've probably used them before, and they never disappoint!
These are my absolute favorite pens! Using these pens instantly improves your handwriting! All of my cursive, hand lettered, and calligraphy fonts that you've seen on my pages – I use these pens for all of it. And I give them the credit for handwriting. Honestly, I cannot recommend these pens enough!
Looking to get awesome with some graphs and trackers? Then I'd also suggest a ruler and some colored markers. I personally use this clear ruler and Steadler fineliners every day to make my own pages. They're cheap and easy to use, and I highly recommend them for getting started!

From one frazzled parent to another, I hope you'll give Bullet Journaling a try. It's really made a difference in my life and I know it will in yours too. Looking to get started but have more questions? Leave your Q's in the comments below!